Samsung Galaxy S4 Active LTE-A adds Snapdragon 800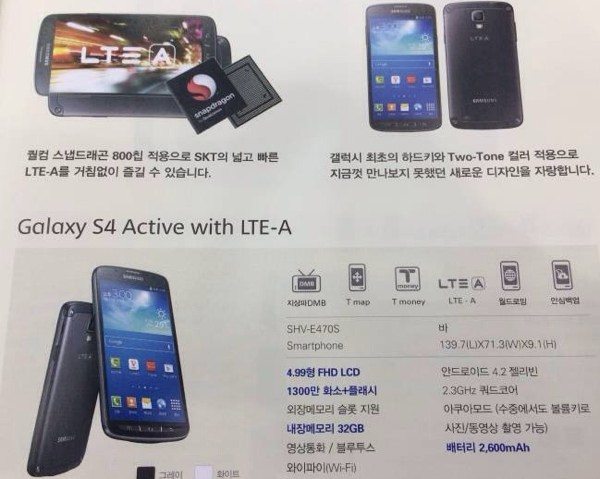 Yet another smartphone has been added to the prolific Samsung Galaxy lineup. Previously we saw the arrival of the Galaxy S4 LTE-A with Snapdragon 800 chip and now the Samsung Galaxy S4 Active LTE-A with the Qualcomm Snapdragon 800 processor has also been launched.
The Galaxy S4 Active is the rugged version of the Galaxy S4 and the previous version of the phone had the Snapdragon 600 chip. We're not exactly surprised at the launch of the Galaxy S4 Active LTE-A with Snapdragon 800 chip as it was leaked some time ago, and it has now slipped quietly onto the scene.
The Snapdragon 800-powered Galaxy S4 Active has arrived on SK Telecom in South Korea and has some other updated specs such as the 2.3GHz processor, Adreno 330 graphics, and improved connectivity, up to 150 mbps. It also steps up from an 8-megapixel rear camera to a 13-megapixel camera and internal storage goes up from 16GB to 32GB.
The Galaxy S4 Active LTE-A has IP67 certification for dust and water-resistance and other specs include a 5-inch LCD Full HD display, a 2600 mAh battery and microSD slot. It runs Android 4.2 Jelly Bean.
A white color version is also added and it weighs in at 147g. There's no word yet on availability for other regions although we imagine it will release in at least a few other countries at some point.
Have you been waiting for the arrival of the Snapdragon 800 Samsung Galaxy S4 LTE-A? Do you hope it releases in your region? Let us know with your comments.
Source: Hi-tech@mail.ru (Google Translated)