Apple vs e-Watch in iPhone patent infringement lawsuit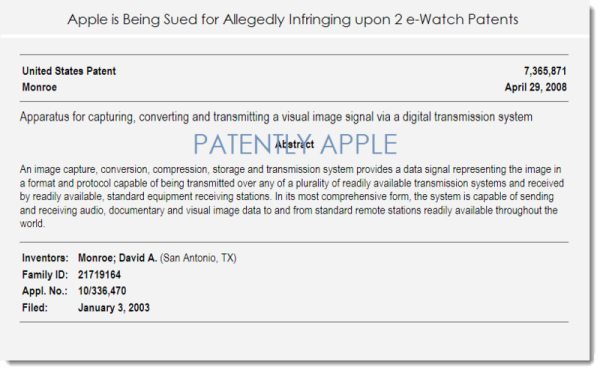 Apple is heading towards a lawsuit battle after e-Watch Inc filed for a patent infringement lawsuit against them, it has been reported that Apple infringed certain patents to do with iPhones being able to send photos over the internet.
e-Watch is suing Apple for infringing these patents 7,365,871 and 7,643,168; these patents were filed under the name "Apparatus for Capturing, Converting and Transmitting a Visual Image Signal via a Digital Transmission System."
Patently Apple has in-depth information reporting that Apple (Defendant) provides and sells certain camera phones that infringe the patents named above, and these include the iPhone 4S that are capable of working over cellular networks.
The patents-in-suit apparently discloses image conversion, storage, compression, capture and transmission system. As of yet no judge has been assigned even though the infringement case was presented in the Texas Eastern District Court, Marshall Office.
Phones Review has no other knowledge of the lawsuit other than the source above and the patents in question, we will obviously look deeper into this. In the meantime please do visit Patently Apple.