Expensive iPad Air case offers sheer luxury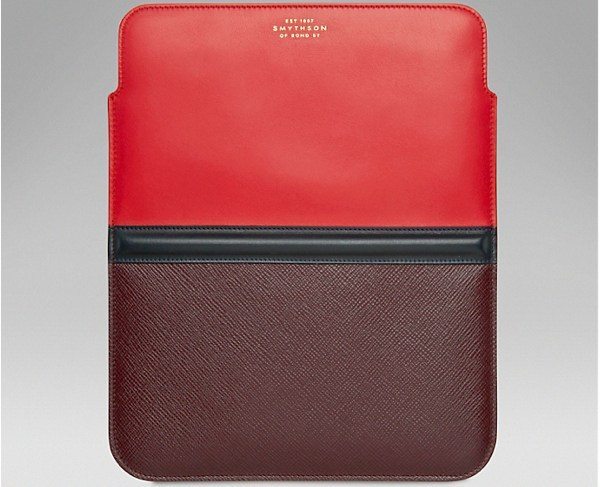 The Apple iPad Air is being snapped up by device enthusiasts worldwide and many people are also hoping for this tablet as a Christmas gift. You may be looking for an iPad Air accessory with real sophistication, and so we want to give you details of an expensive iPad Air case that offers sheer luxury.
Smythson of Bond Street has been established since 1887 and offers luxury items made with craftsmanship and using top quality materials. The company has several stores worldwide and will also ship orders to all parts of the world.
The Panama Collection from Smythson is a modern range of luxury lightweight accessories and bags made from calf leather and available in a variety of colours. One of the products in this line is the Panama Collection iPad Air Sleeve.
This sleeve is made from smooth and crossgrain calf leather and features a leather stripe. Colour options include Venetian Red with Midnight Blue, Navy with Red, Fuchsia with Light Grey, Yellow with Light Grey, and Emerald with Light Grey.
The price of the Panama Collection iPad Air Sleeve is £225 and we make no bones about it, that's quite a spend on an accessory! However, there are some people who will really appreciate the quality of this case and might be tempted, or might add it to their Christmas wish lists.
Gift messages and personalization can also be added to orders for these iPad Air sleeves. The Panama Collection also includes items such as tote bags, purses, pouches, card holders, wallets, camera cases, pencil cases, key rings, luggage labels, passport covers and more.
If you want to see more or to order the Panama Collection iPad Air Sleeve from Smythson of Bond Street, head to the company website here. We'd love to hear your thoughts on this opulent iPad Air accessory.
Would you be willing to pay as much as this for an iPad Air case? Maybe you wouldn't spend that much on yourself but would love someone to buy one for you? Let us know with your comments.