Gmail app update adds new respond feature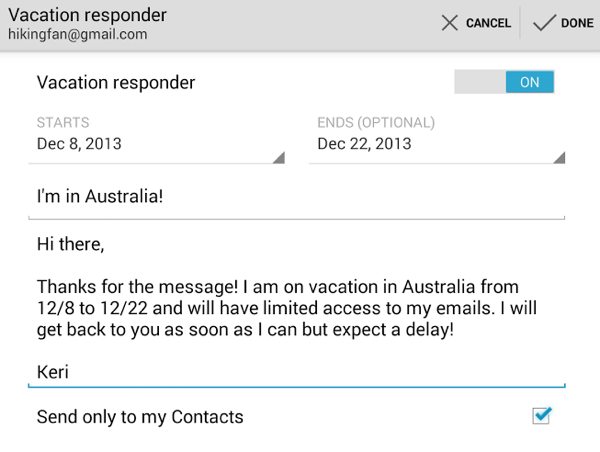 The Gmail Android app has had an update that now adds the new respond feature as well as a few other things.
When you go to your Gmail login page and sign-in you will notice a few changes thanks to the new Android version 4.7 update, we call it the respond feature but the Gmail team calls it the 'Vacation Responder', which is fantastic if you are not available or in the office.
Rather than the Web the Gmail app allows users to set up a responder to emails, other features include the ability to add more than one photo or video within the email now.
Gmail app users can also attach many other files now including .zips, PDF files to documents and even .apks, as long as they are not over 25MB you are good to roll. The update also allows Android users to print hard copies of their emails thanks to the new built-in print settings (You Must have KitKat OS for this to work.
Other features include: Improved sync and outbox behaviour, Contact photos turn into tick boxes when selected, and a whole new fresh design. This is a great update just before Christmas; we all know that the vacation responder will come in handy over the festive period because that is when we are all at our busiest.
What do you think about the new Gmail Android app update with its new vacation responder feature?
If you do not have the Gmail app please get is now via the Google Play Store.