iPhone 5S beats Galaxy S4 as best-selling US smartphone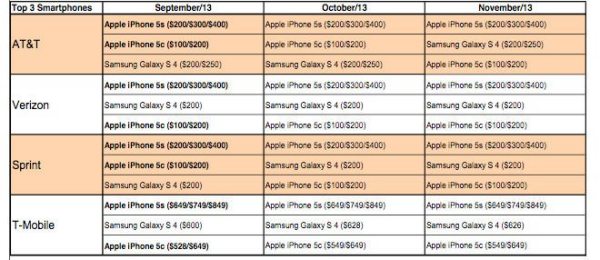 Apple is giving Samsung a little beating when it comes to the top vendors and having the best-selling smartphone at Verizon, T-Mobile, AT&T and Sprint over a 3-month period, which includes September, October and November 2013.
Apple Insider shares with us a new report by analyst T. Michael Walkley new numbers of the best-selling smartphone at the major U.S. wireless carrier's mentioned above; the top 3 smartphones are the iPhone 5S, 5C and the Samsung Galaxy S4.
The iPhone 5S seems to be very popular indeed since it released in September and took all umber one top slots. The iPhone 5C took second place at AT&T and Sprint, at Verizon and T-Mobile the 5C took third.
The Samsung Galaxy S4 took second place at Verizon and T-Mobile and third place at AT&T and Sprint.
Seems like Apple is consistently being top, last year of 2012 NPD reported that the iPhone 5 was the top-selling smartphone in USA in Q4, then is second place was the Samsung Galaxy S3.
Please do not shoot the messenger in the foot — Do you own the iPhone 5S or the Galaxy S4?