Nokia Lumia 1001 concept needs a release date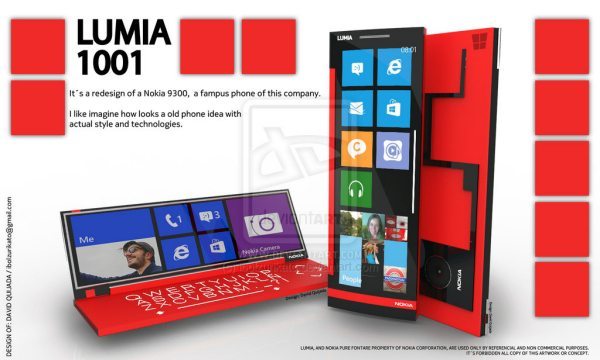 David Quijada aka Deviantart ibolzurikato has designed the Nokia Lumia 1001 concept, which he says is the Nokia 9300 redesign, and it looks fantastic.
Everyone remembers the 'Communicator' and this concept looks like a newer version of one, he wanted to bring an old phone and make it new again with a sassy new styling.
The Nokia Lumia 1001 designer does leave a lot to the imagination seeing as he has not listed any specs, what we do see is a different way we use the keyboard. It looks like the smartphone flips open sideways, which then shows the display and a another flat surface that reveals the backlit keyboard, we are guess that when the keyboard is not in function you cannot see the keyboard characters.
The part we cannot get our heads around is the camera integration, is this on the same panel as the keyboard or does the keyboard panel flip over to reveal another side with the camera lens on it?
On the keyboard you will notice left, right, up and down D-Pad, this we are guessing is for gaming etc, not too sure where the speakers are placed.
Many smartphones are rectangle but they have that wide feel about it, the Nokia Lumia 1001 concept on the other hand has adopted the skinny display look and that is a feature we are not too sure about. It looks so strange we would like to see a release date next year.
Would you like to see the Nokia Lumia 1001 Windows Phone Communicator 2014 release next year?