ClickN Kids 7-inch Android tablet via Walmart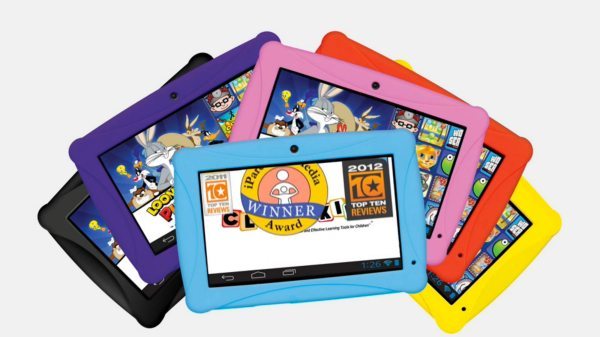 It is not all about the high-end tablets such as the Nexus 7, 10 and Samsung Galaxy Note 10.1, lets think about the children for a change, after all Christmas is all about the little ones and that is why the ClickN Kids 7-inch Android tablet via Walmart is getting its mention.
The ClickN Kids 7-inch tablet comes featuring Looney Tunes Phonics and with 8GB memory on board the kiddies can have many hours of fun.
When you buy the ClickN Kids tablet it comes with a durable matching gel case to help when the tablet gets dropped or bump, we can all be a little clumsy now and then. It comes with a dual-purpose interface, which means it is great for both adult and child use.
Loving the fact that the Android tablet comes with over 30 app pre-loaded, which includes the superb Looney Tunes Phonics, Team Awesome, Talking Ginger, Talking Tom 2 and much more. Parents need not worry because it comes with full parental control, which means they can built-in monitoring, web content filtering as well as monitoring their children's time usage as well as having the option to protect your child's identity. Having this sort of control stops your child downloading apps and other functions that they are not supposed to be doing.
If you are an adult, yes we know there is the child in you but for now if you are a grown-up you will be happy to know that this tablet acts as a fully functional tablet for you too. There is grownups button where you type in your secure pin and then it's no longer a kid's Android tablet.
Key ClickN Kids Tablet Specs Include: 1.5GHz Dual-Core processor, 7-inch 800 x 480 resolution display, WiFi, 1GB RAM, 8GB on-board storage memory, microSD card slot, stereo speakers, webcam with microphone, Android 4.1 Jelly Bean OS and much more.
The tablet also comes with Gmail, Google Voice, YouTube, Google Maps, Google+, Drive, Earth, Books, Finance, as well as Facebook and Twitter. The tablet comes in many different colors for only $99 via Walmart — Do you like the sound of the ClickN Kids 7-inch Android tablet?