Galaxy S4 fire owner gets ridiculous Samsung reply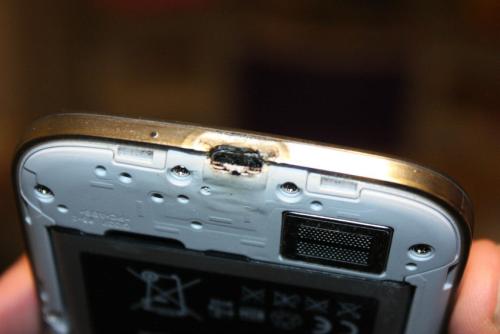 There have often been reports of handsets suddenly catching fire but these have largely been down to the use of some cheap third party accessories such as replacement batteries or chargers, but this wasn't seemingly the case for a Galaxy S4 that caught fire and the owner got a ridiculous reply from Samsung.
An owner of the Galaxy S4 saw his handset catch fire while on charge and posted a video talking about the event, but when he asked for a replacement device the company asked for the video to be removed and not to talk about the event.
The user plugged the handset and charger in and fell to sleep but awoke to find smoke with a part of the device burning, and in the video the users shows off the severely burned charger and the port where it plugs into the handset.
He continues by talking how the carrier Rogers responded by saying it will take three weeks to get sorted or just go to Samsung instead. When contacting Samsung they said that video proof will need to be provided so he decided to post this video that you can see below to YouTube.
Samsung responded that to receive a replacement though he would have to sign a legal agreement and remove any videos about the situation from YouTube, which would mean that he signed away any future claims against Samsung.
Now if this matter is legit you have to remember that millions of Galaxy S4 devices have been sold over the last few months, so the problem would be a tiny percentage. The Company's response is not great though and many have been commenting recently about the lack of a good customer service from the company.
Are you surprised by Samsung's response?
Source: Mashable.