Verizon Galaxy S4 Mini Android 4.3 update ready to go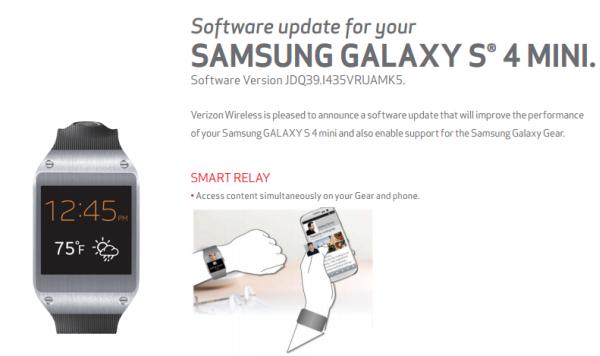 Samsung has been busy over the last few weeks updating a number of handsets to a new version of the Android operating system, although not everything has been running so smoothly. Now though the Verizon Wireless Samsung Galaxy S4 Mini Android 4.3 update is ready to go.
The handset has only been available on the carrier for short while but Verizon has revealed that the software is ready for the Samsung Galaxy S4 Mini, and will bring the device up to version number JDQ39.1435VRUAMK5.
This software build includes the Android 4.3 Jelly Bean operating system along with support for the Samsung Galaxy Gear smartwatch, and according to Verizon the firmware update also brings some connectivity improvements for the handsets Exchange email server.
There are also improvements for 4G LTE functionality, and the Isis Mobile Wallet, but the update now brings the option of owning the Galaxy Gear wearable device in time for Christmas. Neither Samsung nor Verizon have stated when the software update will begin rolling out to end users but it could have started already.
The full changelog can be found on Verizon's website and you can check for the availability of the firmware by connecting your handset to the Samsung KIES app, or by going to the settings option on the handset and selecting About device> Software update > Check for updates.
Have you received the update yet?