iPad Mini 2 vs iPad Mini benchmark results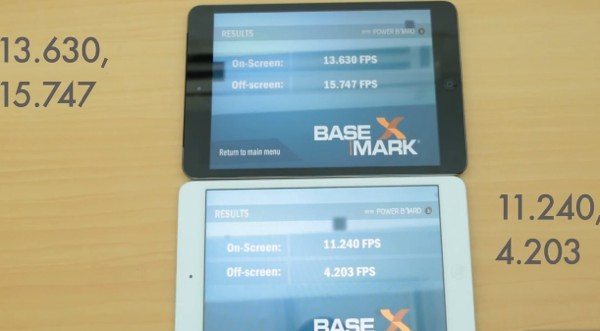 The iPad mini with Retina display is going to make an appearance under plenty of Christmas trees this year. It's always interesting to see how a new device holds up against an older version, and with that in mind we have a video to show readers of the iPad mini 2 with Retina vs. iPad mini that compares benchmarks.
We've previously given readers plenty of information about the iPad mini 2 that you can see at the link. However, the video that we've embedded for you below this story concerns itself purely with benchmark tests and the results.
The iPad mini 2 is powered by a new Apple A7 1.3GHz dual-core processor with PowerVR G6430 quad-core graphics. On the other hand the original iPad mini has the Apple A5 1GHz dual-core processor with PowerVR SGX543MP2 graphics, so it's not difficult to imagine which should do best.
The short YouTube video shows a series of benchmark tests starting with GFXBenchmark on the two tablet devices. We then see other tests including 3DMark, Basemark X, GeekBench 3, and Sunspider.
You can see all of the results yourself by checking out the video below and we won't give away the results. However, we will say that the results weren't that unexpected.
What are your thoughts on how the iPad mini 2 compared with the first-generation iPad mini in these benchmark tests? Send us your comments on this.