iPad Air benchmark tests and results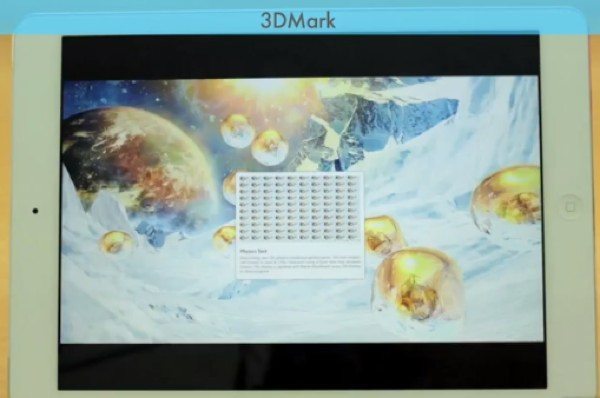 The Apple iPad Air is appearing on plenty of Christmas wish lists this holiday season, and if you're buying one as a gift or for yourself you might be interested in some benchmark results. We have a video to show readers of iPad Air benchmark tests and results.
The iPad Air has a sleek, lightweight design and also has upgraded specs from the previous version of the full-sized iPad. It has a new Apple A7 1.3GHz dual-core processor with 64-bit architecture and also the M7 motion co-processor, as well as PowerVR G6430 quad-core graphics.
It's always interesting to see how new devices fare in benchmark testing and below this story we've embedded a short YouTube video that shows benchmarking for the iPad Air.
The video runs through various benchmark tests on the iPad including GFXBenchmark, 3DMark, Basemark X, GeekBench 3 and Sunspider. After each test is shown you can then see the resulting benchmark scores displayed.
If you head to Anandtech you can also see a hugely comprehensive iPad Air review, which shows tables of various benchmark tests (including some of the above). Here you can see how the iPad Air performs when compared with other top devices including the Samsung Galaxy 10.1 2014 and Nexus 7 tablets and the iPhone 5S.
Once you've taken a look at the video below our story we'd be interested to hear your thoughts. Do you think the iPad Air will live up to your expectations? Let us know by sending your comments