Nexus 5 Android 4.4.2 vs 4.4 camera improvements shown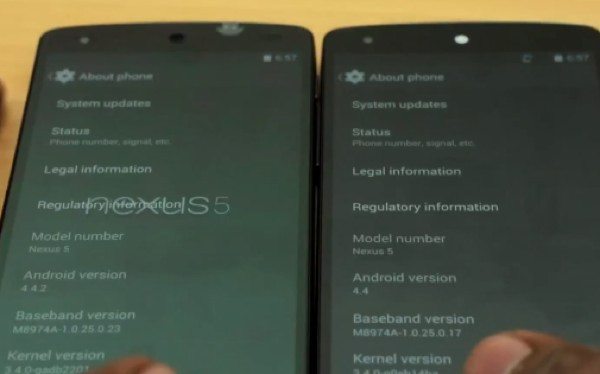 We often bring readers news of operating system updates for their various devices and recently the Google Nexus 5 was updated to Android 4.4.2 KitKat from Android 4.4. This update offered camera improvements to the Nexus 5 and today we have a video to share that shows how much change there has been.
We have embedded a 9-minute YouTube video below this story, which shows a Nexus 5 running Android 4.4.2 alongside a Nexus 5 running on Android 4.4. Camera enhancements from 4.4.2 include better representation of colors and optical image stabilization and more.
The video goes through various aspects of the camera improvements for the Nexus 5 including factors such as truer colors. Sample images were taken with both Nexus 5 cameras to depict the difference. They were shot in different conditions such as low light, daylight and natural conditions.
You'll see quite a few image samples compared and we have to say you can definitely see the difference in the images taken with the Nexus 5 running the Android 4.4.2 update, and how much better they are. The reviewer discusses the results and also notes better noise reduction for the Nexus 5 on 4.4.2 and more.
After this the video continues with showing video samples from both Nexus 5 cameras, noting something a little odd. You can see the video footage from the cameras running 4.4.2 and 4.4 and the footage from the smartphone camera running 4.4.2 appears jerkier than with the camera on 4.4. However, the color reproduction and audio on the camera running the later OS is better.
This is an interesting video to take a look at so do check it out below this story and let us know what you think. Are you surprised at how much the Android 4.4.2 update has improved the camera performance of the Nexus 5, or are you unimpressed?