Motorola Moto G vs. Nokia Lumia 520, budget comparison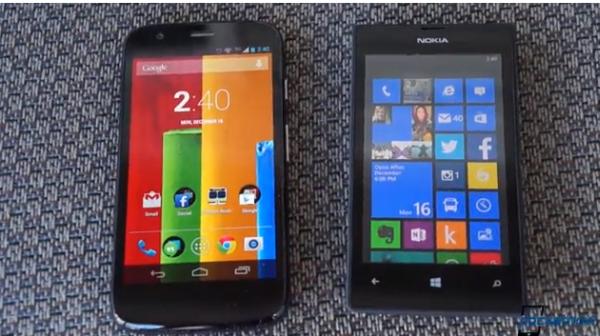 While the smartphone market is awash with high end flagship handsets from a number of different manufacturers, not everyone needs or can even afford such devices. Luckily more companies are producing lower priced handsets that still offer a good experience to consumers, and today we have a Motorola Moto G vs. Nokia Lumia 520 budget video comparison for your viewing pleasure.
While the Motorola Moto G has only been available for a short time many rightly believe that the handset is currently the best budget Android device available to consumers, and although the Nokia Lumia 520 has been around for a while now it is the most popular handset on the Windows Platform.
The video that we have for you below this article is looking at the two handsets to see which device between the Moto G and Nokia Lumia 520 offers the best value for money. While both smartphones are in the budget bracket of the Smartphone world the Nokia Lumia 520 is still a lot cheaper than the Moto G.
Design wise the Moto G has a pebble like feel which in a recent review found that the handset felt nice in the hand, which compares to the 520 that while having a similar soft touch rear cover feels thicker in the hand even though it is actually thinner than the Moto G.
We then get a rundown of the two handsets screen specifications with the Moto G obviously winning out here, which continues to the internal specifications. The Nokia begins to strike back though with its removable battery which is always handy as the smartphone begins to age and a replacement can be easily purchased and fitted.
This continues with the microSD memory expansion which isn't possible on the Moto G, and while these are budget devices the software running on them doesn't reflect this. The two handsets have been found to be ideal for someone that is a general user doing standard things on the devices, although multi tasking can be a little bumpy.
The video continues looking at both handsets in a number of situations such as voice calling and photo taking, but we won't spoil the rest of the video and verdict for you.
Have you considered either one of these handsets?