iPhone 5 dual SIM case worth funding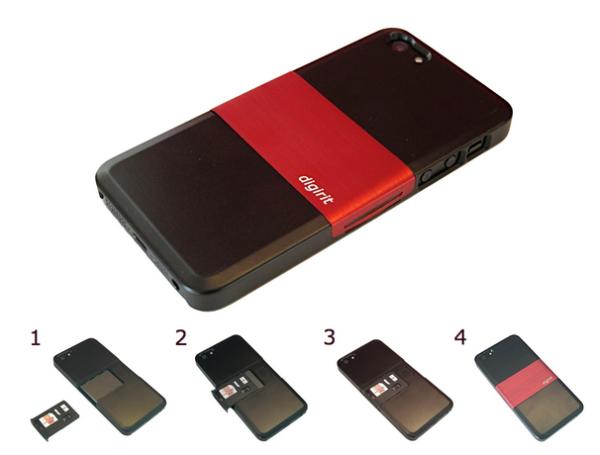 The appeal for dual SIM smartphones is growing all the time and this includes regions away from emerging markets, but unfortunately this feature is normally on more budget handsets. Now though there is as way to get this option on an iPhone 5 with a dual SIM case that is worth funding.
We have got used to various clever gadget ideas getting developed by a crowd sourcing project such as Kickstarter, and the clever looking Digirit SIM+ case is a similar project that is looking for backing from consumers to get the idea off the ground.
This clever idea when fitted to an iPhone 5 will allow you to carry two SIM cards within one iPhone handset, and even better you can switch between them within the settings option on the handset. There will be many owners of the iPhone 5 that have a separate business mobile number and a personal number, which will mean swapping SIM cards or carrying a second smartphone device, but this case will do away with this need.
The case has two active SIM card slots with one accepting Nano SIM cards and the other will house a Micro SIM card, and there is even another slot for storing a 3rd SIM card which would be ideal for when travelling abroad and storing a local SIM card.
Any card that the iPhone 5 accepts will work with the SIM switcher and the software can be set to automatically switch to the second SIM card if the other one loses a signal, or set to certain time intervals such as when you finish work.
The Digirit SIM+ case is available to back over on the HWTrek website and has so far got only 8 backers raising $495 out of a total of $40,000 with 24 days still left to run. Check out the demo video below and tell us what you think of this case design?