Infinity Blade 3 Ausar Rising update is generous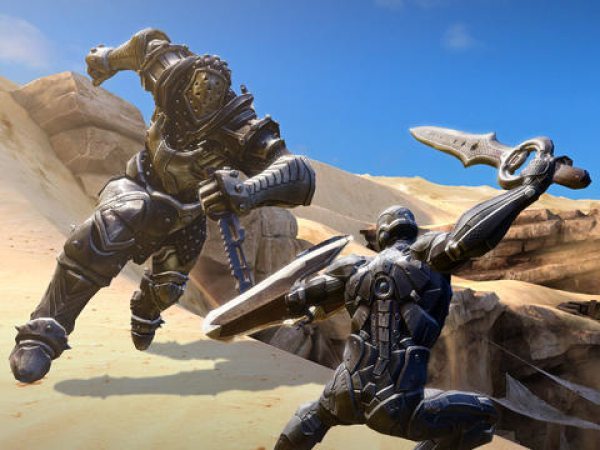 One of the best games out there for iOS gamers for gameplay and graphics has to be Infinity Blade, and the trilogy always brings epic battles and storylines to Apple devices. Even more so now thanks to the new 'Ausar Rising' 1.2 update that has released.
The new Infinity Blade 3 'Ausar Rising' 1.2 update comes with brand new potions, modes, gems, skills, goals, as well as 9 new enemies and 3 fresh quests.
God-King Raidriar was joined by Isa and Siris and was on a quest to destroy the Deathless titans and the Worker of Secrets. Now Siris and Isa have to face the ultimate evil called the 'soulless Ausar the Vile' in 3 new quests.
They have to travel to the Dark Citadel once again, which is where it all started. You the player have to go back to the original Infinity Blade I castle as well as Siris' home in Drem's Maw, and the legendary Plains of Koroth.
There are 9 new enemies and one of them is a huge fearsome dragon, a new mode has been added in this update called 'The Arena', love this one.
There is a new hardcore mode for those that think they are the best Infinity Blade 3 player, this mode is called 'Deathless Quests', players can trade tips and secrets thanks to the new in-game chat feature, the are 8 new skills including double chips earned in Battle Challenges, Remove equipped Gems for free, cast super boosted Magic and much more.
Isa and Siris have over 60 new weapons to choose from, which includes magic rings, armor, shields, helmets, weapons etc. The update also brings new gems, potions, goals, and holiday helmets as well.
The update also brings new bug fixes, balancing tweaks and gameplay enhancements and much more.
ChAIR Entertainment really do know how to give us a fantastic Christmas, go grab your iPad or iPhone and start your epic sword battles right now by installing the generous update – You can purchase Infinity Blade 3 from the App Store for $6.99 (£4.99)
Have you installed the new Infinity Blade 3 Ausar Rising update?