LG G Flex vs HTC One max video review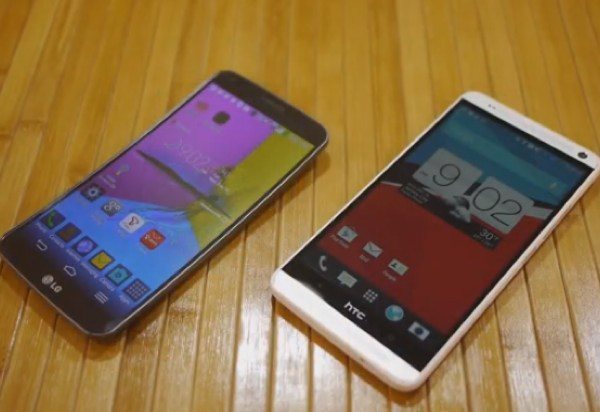 If you're a fan of smartphones with a larger display, aka phablets, two that you might be thinking of purchasing are the HTC One Max and the LG G Flex. These handsets both have plenty to recommend them so today we want to share an LG G Flex vs. HTC One Max video review so that readers can see how they compare.
The HTC One Max is already widely available while the LG G Flex has released in some regions and is rolling out slowly elsewhere. A distinguishing feature of the One Max is that it has a fingerprint sensor while the aspect that has captured a lot of attention for the G Flex is that this is a curved flexible handset with self-healing properties.
Both of these are high-end Android smartphones and as they both have some great specs it might be difficult to choose between them. The 9-minute YouTube video that we've placed below our story gives a good look at both devices.
The video starts by showing the designs and how they feel so this is a good opportunity to get some close-up looks. Then the displays are detailed, with the G Flex having a slightly larger 6-inch display than the One Max on 5.9-inches. You'll then see a hardware tour of the devices before a discussion about the software used on each.
Cameras are also detailed with sample images shown from each device. The LG G Flex is seen as having the best performance in this respect, although when it comes to video footage the results are more equal. Other information including call quality, battery life and pricing is also given.
In conclusion, these two phones are both impressive but one of these phones is seen as having a fresher feel and judged a more standout device. However, there is a significant price difference that potential buyers will want to take into account.
We won't give away the ultimate verdict, as readers can check out the video below to see that. After you've checked out the video review we'd really like to hear your comments.
Given the phone comparison in the video, are you swayed more towards the LG G Flex or the HTC One Max? What is the main factor for you in your decision?