Snooperscope night vision lens for WiFi smart devices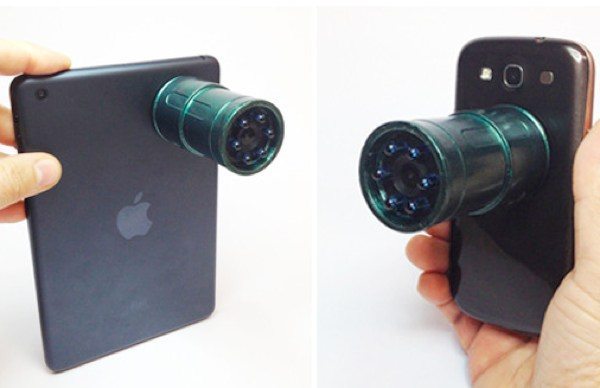 We're always on the lookout for interesting and useful accessories and today we have details about the Snooperscope night vision lens for WiFi smart devices. The idea behind this product is that it uses your mobile devices to be able to see the world and capture it in the dark, and reveal things that may not be visible in the light.
There is a crowdfunding campaign for this to be put into production with a target goal of $60,000. So far over $6000 dollars has been raised with 11 days to go before the funding deadline. The wireless device uses infrared light and your device as a screen for no-light conditions and also total darkness.
The Snooperscope utilizes special optics so that things not visible in total darkness to the naked eye can be seen by users in the area covered by the light. The device can be used in numerous ways for both personal and professional purposes.
As well as night vision and seeing in dark places the Snooperscope can also see through opaque materials that pass infrared rays and has hundreds of experimental uses as well as a fun element. It can also be used for security purposes and the device can be attached to a smartphone or tablet using a special magnet.
When this product achieves a retail launch it will be priced at $99 but Early Bird backers can get it for only $39. A Snooperscope app is available for Android and iOS devices to pair the Snooperscope to your mobile device via a direct WiFi connection.
To see more on the technical aspects of how the Snooperscope works along with ideas for usage and specifications, or to back this project head to HWTrek here. Do you like the idea of the Snooperscope night vision accessory? Will you become a backer?