iPad Air gaming performance review and rating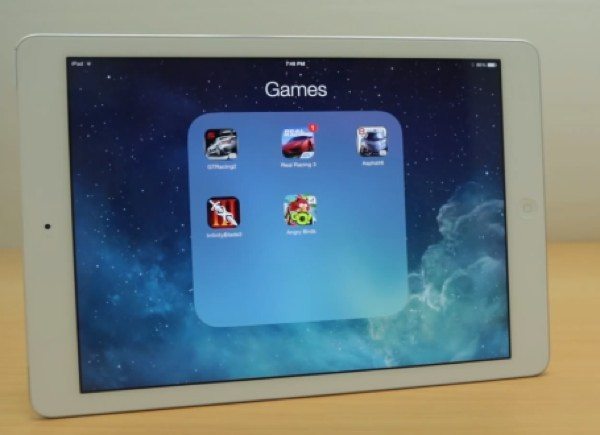 Mobile gaming is hugely popular and more and more of us now use our smartphones and tablets for this purpose. The Apple iPad is a popular tablet buy this holiday season and if you're wondering how it fares with gaming you might be interested in an iPad Air gaming review on video that gives an overall rating for this activity.
The new iPad Air is a notable tablet that has received rave reviews and has some impressive specs. It's powered by an Apple A7 1.3GHz 64-bit dual-core processor with M7 motion co-processor, PowerVR G6430 quad-core graphics and 1GB of RAM. Therefore the iPad Air should offer an excellent gaming experience, so it's interesting to see how it performed in this respect.
The 5-minute YouTube video that we've embedded for your viewing pleasure below this story takes a look at various games being played on the iPad Air. The games shown are GT Racing 2, Real Racing 3, Asphalt 8, Infinity Blade 3, and Angry Birds GO.
You'll see some gameplay of each of these on the iPad Air, and at the end of each clip a rating for that game is shown for both graphics and performance. Starting with GT Racing 2 this scored 5/5 for both categories, so impressive stuff!
We won't give away all the results as you can see for yourselves in the video below, but maybe unsurprisingly the iPad Air comes out of this gaming review with flying colors. At the end you'll see an overall gaming rating shown, with the one drawback being that the tablet can overheat after prolonged gaming use.
When you've checked out the video we'd like to hear your thoughts on iPad Air gaming performance. Does the iPad Air gaming experience live up to your expectations?