Value Samsung Galaxy S4 Ultimate Accessory Pack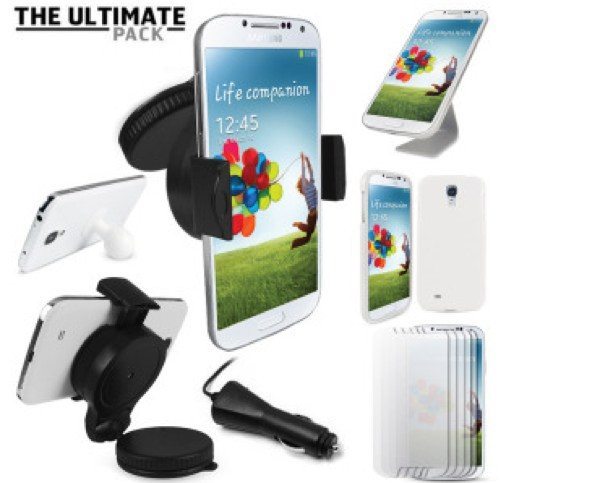 The Samsung Galaxy S4 is a hugely popular smartphone. Many people may have had this device since its release and more are likely to have received it recently as a Christmas gift. There are a vast amount of accessories available and today we have details of a value Samsung Galaxy S4 Ultimate Accessory Pack that offers everything you need.
We recently gave readers information about the equivalent accessory pack for the Galaxy Note 3 phablet, with basically the same accessories on offer. However, we know that many of our readers will also appreciate this accessory pack for the Galaxy S4.
The Ultimate Samsung Galaxy S4 i9500 Accessory Pack consists of 6 different useful accessories specifically made for the Galaxy S4. These will help to protect your device as well as giving functionality and convenience and all have been designed to work with each other.
The Ultimate Accessory Pack for the Galaxy S4 comes in black or white color options and includes a protective lightweight FlexiShield Skin that wraps around your phone. The skin provides access to all ports and functions and you don't need to remove it to use the camera or charging port.
Other accessories include a Galaxy S4 car charger, and 5 MFX screen protectors to protect the display from rogue scratches. There's also a Galaxy S4 desk stand, a Galaxy S4 car holder, and finally a mini portable desk stand. The price of this Ultimate Samsung Galaxy S4 i9500 Accessory Pack is just $27.49 and that's a bargain by anyone's standards.
You can order it or see more details at Mobile Fun, for the white pack here, or for the black pack here. These links are for those in the US but if you're in another country simply click on the top right of the Mobile Fun page for accessories and cases for alternative regions.
Are you looking for a variety of accessories for your Samsung Galaxy S4? If you order this Ultimate Accessory Pack we'd really like to know what you think of it, so do send us your comments.