Nokia Lumia 1520 vs. 808 PureView camera comparison video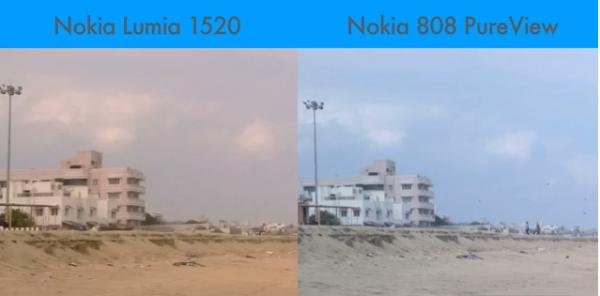 While it may have seen its market share disappear before it recently begun to make a comeback, but Finnish smartphone manufacturer Nokia has always provided quality cameras on their handsets. Today we have the flagship Nokia Lumia 1520 vs. Nokia 808 PureView in a camera comparison video.
The Nokia Lumia 808 PureView handset was praised for its new camera technology when it was released but many felt that the handsets Symbian operating system let the device down. Meanwhile the Nokia Lumia 1520 is the latest flagship smartphone from the company and comes packing a 20-megapixel rear facing camera coupled with Carl Zeiss optics and optical image stabilization.
We have embedded a video below this page that is comparing the cameras of both handsets in a number of situations that begins with images from various locations outside. It soon becomes apparent that the Nokia Lumia 1520 has a more natural warmer colour reproduction.
The images from the Lumia 1520 are also clearer when it comes to text, but when it comes to images with lower lighting conditions things are a little different. We then move onto a look at video recording on both the handsets which again shows the more natural colour reproduction of the Nokia Lumia 1520, but the sound reproduction when outside in windy conditions is far better on the Nokia 808 PureView device.
Check out the full video and tell us which camera results you prefer and use the link above to see more camera comparisons for the Nokia Lumia 1520.