Galaxy S5 specs and render imagined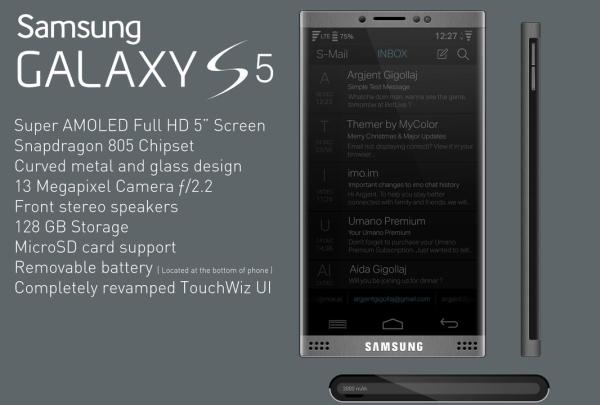 In the next couple of months it is widely believed that the next flagship smartphone from Samsung will be released to the public with the anticipation for the device hitting new levels, and today we have a Galaxy S5 render that has been imagined along with the specs for the handset.
The concept phone that you can see on this page is the work of Deviantart member ArgjentGigollaj, which is his idea of what the Samsung Galaxy S5 could be like. There is also a list of specs that accompany the design with some being a little farfetched while the others not meeting what is expected to arrive on the smartphone.
We have a 5-inch Full HD Super AMOLED display while recent rumours have suggested that the device could in fact feature a 5.25-inch 2K screen, and this is being powered by the quad core Qualcomm Snapdragon 805 processor although Samsung has previously stated that their next flagship will have a 64-bit processor.
The design features a curved metal and glass form factor although a curve can't be seen via the image, while other specs include 128GB of storage which is un-expandable along with a 13-megapixel rear facing camera with an F/2.2 aperture lens, front facing stereo speakers, and a removable 3,000 mAh battery unit.
Do you like this Samsung Galaxy S5 design?