Asus Transformer Book Duet TD 300 tablet video removed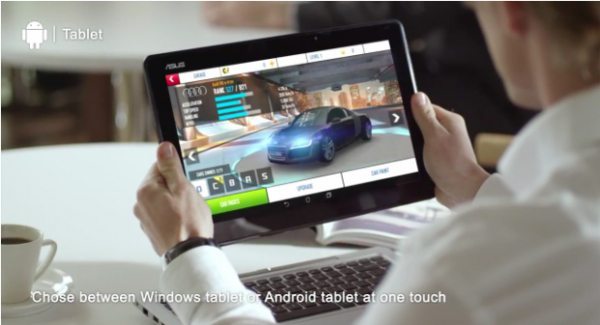 The Asus Transformer Book Duet tablet with model number TD300 has been teased online before CES 2014, but since this has happened the video has been removed.
Asus must have uploaded the YouTube video of the new Asus Transformer Book Duet TD300 tablet laptop hybrid by mistake, because it has now been removed from the system.
Android World were the first to spot the new Asus Transformer Book Duet quad-mode dual-OS device, it is always great to be teased with a new Windows 8 dual-booting Android tablet and now we are intrigued to learn more.
The part we like the most and find very interesting indeed is the bit where Asus has found a way to move from Windows 8 to Android in a quick manor. The video showed the tablet operating system changing within 8 seconds, and moving between Android and Windows 8 is simple. Use as a tablet and you have Android, but dock it into the keyboard you get Windows 8.
Just one touch is all that is needed to switch between Android and Windows 8, we believe the video was removed for one simple reason — the reason is down to a spelling error. In the screenshot below, which was taken from the video before being removed you will notice the words saying "Chose between Windows tablet or Android tablet at one touch", we know it should have said "Choose."
There is no Asus Transformer Book Duet specs, release dates or price details, as of yet, we will let you know more when CES 2014 kicks off.
Do you like the sound of the new Asus Transformer Book Duet tablet so far?