Google Plus Hangouts web server problems, app is fine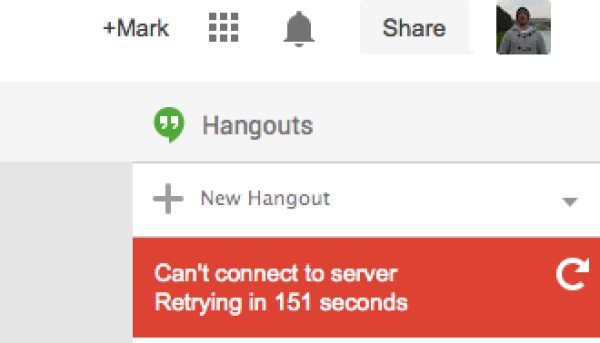 Going to keep this real brief, it seems Google Plus Hangouts web version is having server problems at the moment.
When using Google Plus hangouts online it seems there is an outage and this is to do with server issues, each I try to open Hangouts I get a message saying "Can't connect to server" and this is a right issue leaving me to use the mobile app version of Hangouts.
The Google Plus app on both iOS and Android seems to be working ok, I still can chat with those on my Hangouts list on the app. It just seems to be the online version having problems connecting.
One minute the online Google Hangouts says it is connected and then when I click on a name to chat to that person it says cannot connect to server, guess at the moment there is an update happening or I am the only person having problems.
Before you ask — YES I can open all other websites etc and YES I do have Internet connection.
Are you having Google Hangouts problems?