Samsung Galaxy Note 10.1 on Verizon update imminent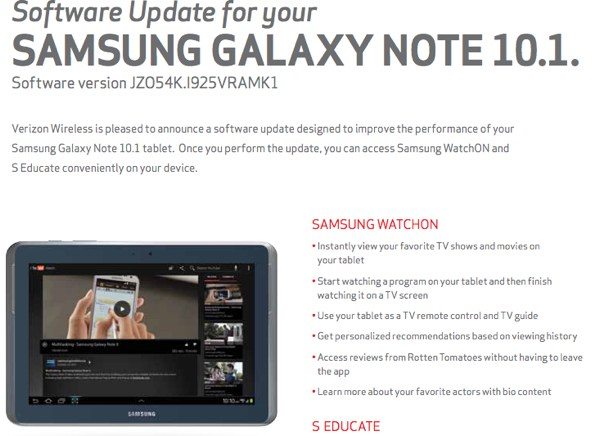 There's some very promising news today for owners of the Samsung Galaxy Note 10.1 on Verizon. An update for this tablet is imminent, although we should point out that it's for the original Galaxy Note 10.1 and not the Galaxy Note 10.1 2014 edition that arrived in October.
Verizon has announced that an update for the first Galaxy Note 10.1 is due in a matter of days so it could be rolling out very soon now. Sadly, this is not the Android 4.3 Jelly Bean update that the original Note 10.1 is still waiting for but this incoming update will still offer some changes.
The Verizon Galaxy Note 10.1 update will bring software version JZ054K.I925VRAMK1 and once it starts rolling out it may be pushed out over several days. The benefits of this update seem to solely consist of two Samsung app additions.
The first is Samsung WatchON, which will enable users to instantly view TV shows and movies on the original Galaxy Note 10.1, or to begin viewing on the tablet and then see the remainder on a TV. It also means that owners can use the tablet as a remote control for the TV, get personalized recommendations and more.
The other additional app is S Educate, which will give owners of this tablet access to 4,400 tutorial videos from the Khan Academy library. Those videos can be watched side-by-side simultaneously and users can search the app for educational content and access test preparatory content and more.
Do you have the original Samsung Galaxy Note 10.1 on Verizon, and do you think you will find this update useful? Let us know with your comments.
Source: Verizon