Official Grammy Awards app updated for 2014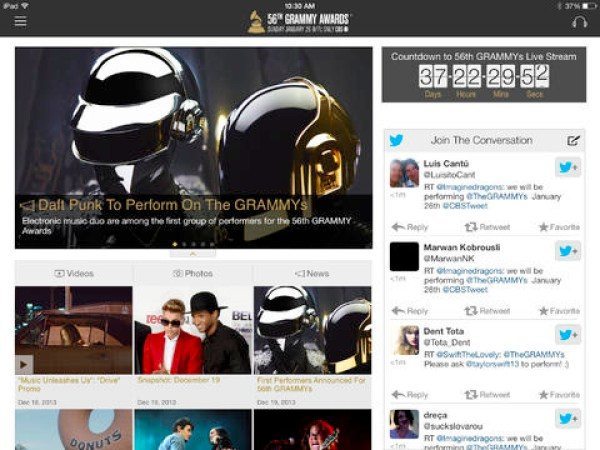 It's almost time for the Grammys again and the official Grammy Awards app has just received an update for 2014. The 56th Grammy Awards 2014 takes place at the Los Angeles Staples Center on Sunday January 26th so this timely update for Android and iOS will enhance your enjoyment of this year's music event.
Millions of people will tune in to follow all of the coverage of the Grammys 2014 and this app will allow you to immerse yourself even further in the big occasion. This official Grammys app comes from The Recording Academy and offers live streaming and insider access such as behind the scenes interviews and photos.
The app enables users to see news from VIP industry events, to follow the Grammy red carpet on music's biggest night, and view live performances on their smartphones and tablets. Another feature is exclusive performance and interview videos from a selection of artists, from the biggest bands as well as emerging talent.
The Grammys app also shows trending Twitter feeds from fans and artists so that you can join in with the latest talking points. The new update has a brand new music player so that you can listen to content from your favorite performers and offers updated backstage trivia questions to the Grammy trivia game.
Another new addition is the Best New Artist page where you'll find further information about newbies to the music scene. The Android Grammys app is free from Google Play Store here, and it's compatible with devices running Android 2.2 or later.
If you want the iOS Grammys app you'll find it at iTunes. This is compatible with iPhone, iPod touch and iPad running iOS 5.0 or later. Like the Android version this app has just been updated to version 3.0.
Will you be heading to Google Play or the App Store for the official Grammy Awards app updated for 2014?