App Inventor and MIT AI2 Companion combination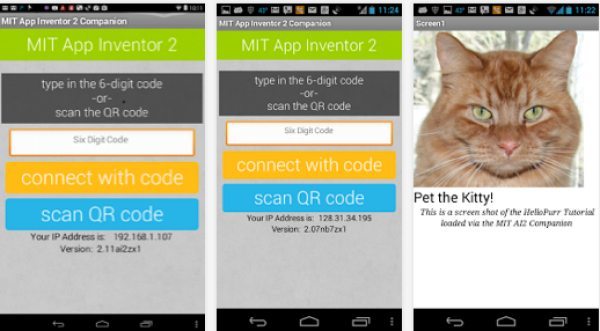 If you want to create your own Android apps using MIT App Inventor version 2, it has been said you should also use the MIT AI2 Companion to develop them.
If you are indeed using MIT App Inventor version 1, which is over on beta.appinventor.mit.edu then it might be in your best interest to start using MIT AI Companion instead of this program — you can also learn more about Version 2 Beta over on http://ai2.appinventor.mit.edu.
The MIT AI2 Companion app recently had an update that has now added BLUETOOTH_ADMIN permission needed by the Bluetooth component.
App Inventor 2 was launched December 6 and with the joint project of MIT's Media Lab and Computer Science and Artificial Intelligence Laboratory things have got very interesting indeed. It now means anyone can build an Android app simply using a web browser that is either connect to an emulator or phone.
Just a quick recap — the key differences between App Inventor and App Inventor 2 is the ability to run entirely from the browser.
Please head on over to the Google Play Store where you can install the MIT AI2 Companion — What do you think about the MIT AI2 Companion app?