Samsung Galaxy S4 vs Asus Zenfone 5 initial specs look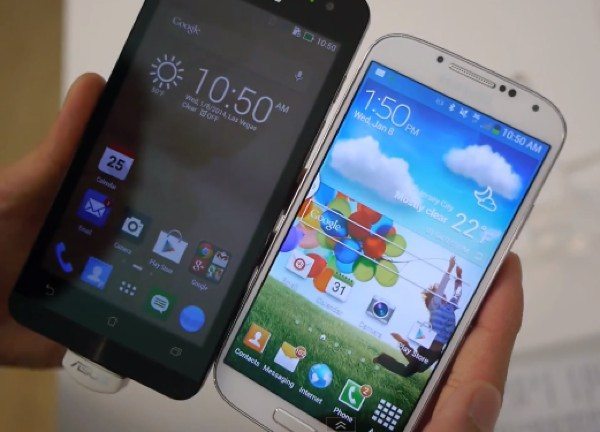 There are plenty of phones being introduced at CES 2014 and the Asus Zenfone 5 is just one of them. As this is a similar size to the popular Galaxy S4 and also an Android smartphone we thought we'd offer a Samsung Galaxy S4 vs. Asus Zenfone 5 initial specs rundown and a first look at how they compare.
The Galaxy S4 is widely available in regions across the world and released last spring. On the other hand the Asus Zenfone 5 release is expected at some point this quarter. We'll run through the key specs of each and then we also have a video to show readers of the two devices together.
The Samsung Galaxy S4 has either a 1.7GHz Exynox Octa-core processor or a 1.9GHz Qualcomm Snapdragon 600 quad-core processor (models vary) and has a 5-inch Super AMOLED display with resolution of 1920 x 1080 and 441 ppi.
The GS4 also has 2GB of RAM, 16, 32 or 64GB of internal storage (expandable via microSD to 64GB), a 13-megapixel rear camera and 2-megapixel front-facing unit. It has a removable 2600 mAh battery and launched on Android 4.2.2 Jelly Bean (upgradeable to 4.3 and later 4.4) skinned with the Samsung TouchWiz UI.
The newly announced Asus Zenfone 5 is powered by a 2GHz Intel Atom Z2580 dual-core processor, and has a 5-inch IPS display with resolution of 1280 x 720 and 294 ppi. It has 1GB of RAM and just 4GB of internal storage (expandable via microSD to 32GB), an 8-megaixel rear camera and 2-megapixel front-facing camera. It has a 2050 mAh battery (non-removable) and it runs the Android 4.3 Jelly Bean OS (upgradeable to 4.4.2 KitKat), with the ZenUI.
Taking an initial look at the specs shows that the older Galaxy S4 appears to hold up very well against the new Asus Zenfone 5, but then the Zenfone is intended to be a very low-cost smartphone so we shouldn't be surprised. If you want to see more then check out the 2-minute YouTube video that we've embedded below this article.
This first look video shows both smartphones alongside each other and the thing that is immediately noticeable is how close in size these two phones are. The displays are discussed as well as the camera differences and there's a good look at the designs of both phones.
The video continues by mentioning the processors with the response of the Zenfone 5 said to be slightly snappier. There's also a mention of the UI experiences. This video gives a quick overview of the Galaxy S4 and Zenfone 5 and gives an idea of what they offer.
It would be good to hear what you think about the new Asus Zenfone 5 and if you think it mentions your attention? Maybe for you the decision is easy and the Samsung Galaxy S4 wins out? When you've had a look at the video below, why not send us a comment.