Slimming World app surely due a 2014 update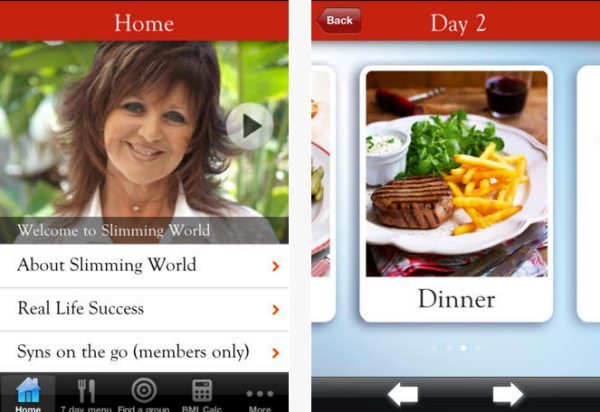 A taste of Slimming World app is for both men and women who wishes to reach their perfect goals when it comes to the their dream weight, the app is very popular in surely a new update is long over due.
We have asked around and many are very happy indeed with the Slimming World app, some believe there should be a new update and some believes that do not change what works.
One Android reader for example said. "Needs a lot of work! Galaxy S3 – app crashes lots and won't let me close. Such a shame, just joined and an app would be my preferred way to manage my account/weight loss. Developers need to have a look at MFP for inspiration! Disappointingly have had to uninstall."
Another said, "Would be fantastic if it didn't crash permanently!! Seems good, can track all food and check Syn value but it constantly crashes meaning can't use it properly."
Overall the app is fantastic if you wish to lose weight, and seeing as we are in January the Christmas big feed needs to be lost again, it sure does show on the belly. The Slimming World app offers so much and looks into the hunger-free eating plan.
Main features include a great insight into the Slimming World's founder Margaret Miles-Bramwell, 7-day eating plan include breakfasts, lunches and dinner ideas, maybe you will find the perfect Slimming World soup. There are so many Slimming World recipes to chose from and many videos from members on how they have done using this app.
Other features include BMI calculator, group finder based on your postcode or location, special members' area featuring a handy free food and Syns search for when you're out and about and so much more.
The last update for this app on iOS devices was April 28, 2012, which was version 1.3 that added new features such as the health extra weights being increased throughout the 7-day sample menu. It also included improved group searches to improve the mapping function, those that have special characters in their username/passwords can access the Slimming World Syns whilst on the move, it also had a few other update — if you have not got the iOS app please read more over on the App Store.
The last update for Android users was back on 19 January, 2012 and this added a new update that update rectified the 'token not set' message previously showing on some handsets, and fixes a small error in the 'favourites' section of the members' Syns on the Go area – Go get the app over on the Google Play Store.
Do you think the Slimming World app needs a new update?