Crazy snail speaker for smartphones and tablets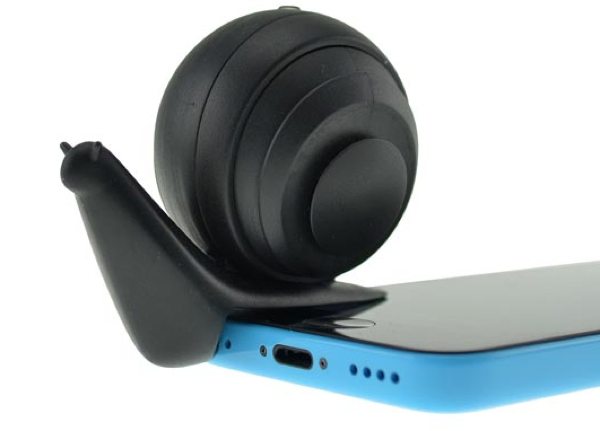 When it comes to crazy speakers or ones that are unique trying to hunt down the best of them can sometimes be hard, so here is the crazy mini snail speaker for all smartphones and tablets.
The mini snail speaker will work with all the top smartphones, such as iPhone 5S, Samsung Galaxy S4, Nexus 7, iPad Air, the list is endless and we would be here all week listing them.
This unique speaker will work with and devices that has a 3.5 mm headphone port, this will enhance your music via the snails built-in speaker, it will not be the best sound in the world but for $11.95 and judging by the video it is not so bad.
Phones Review loves the mini speaker, the snail features plug and play, sits nicely on top of your smartphone or tablet so provides that trendy look, has superior sound quality with built-in amplification, comes with a rechargeable battery that can be charged via USB cable.
AllPuter says on this accessory website that it is compatible with the iPhone 5S, 5C, 5 or earlier, iPad Air and earlier, iPad Mini and Mini 2, as well as all iPods. It is also compatible with Samsung Galaxy S4, Samsung Galaxy Note 3. Even though they list these products its like we said above, its compatible with any product with a 3.5mm headphone port. The mini snail speaker is only available in black.
Speaker specs: 0.5% Maximum THD, 100Hz ~ 200KHz Frequency Response, 4 Ohm Impedance, 5V/300mA Battery, Up to 3 hours Continuous Use, 60 x 53 x 37mm and weighs 43 grams. Please watch the video below.
Would you buy the mini snail speaker for your smartphone or tablet?