Galaxy S4 Active Android 4.3 AT&T update arrives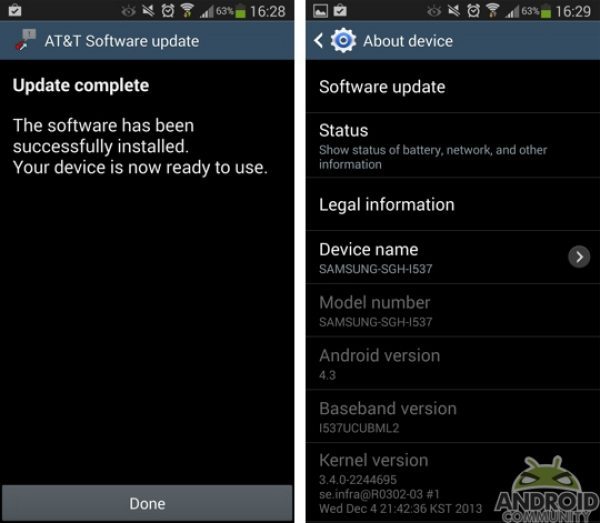 The AT&T Samsung Galaxy S4 Active was at Android 4.2.2 but can now be bumped to 4.3 Jelly Bean thanks to a new OTA update, ok its not KitKat but it's an update.
If you are a Samsung Galaxy S4 Active user on AT&T you should be able to get the new Android 4.3 JB update OTA, its still in the Jelly Bean corner but its all good, at least its an update.
There are many new improvements with this new baseband version I537UCUBML2 update, it now includes Bluetooth Smart technology, OpenGL ES 3.0 support, 1080p Netflix streaming, enhanced notifications.
The 772MB Android 4.3 download also brings Samsung Galaxy Gear compatibility, AT&T Mobile Protection, drag and drop to uninstall or disable applications, AT&T Signature Experience preloads like Password Keeper, Games, Kindle, City ID and Lookout, plus so much more.
Please do remember to do a back up of your device before attempting to download the new update. The guys in the Android Community office managed to install Android 4.3 on their review unit, so it looks all good to go even though this is not the official release.
We first heard about this new update via XDA Developers on January 7, it seems to all run true now thanks to the Android Community actually running it on their Samsung Galaxy S4 Active smartphone.
Have you downloaded the new AT&T Samsung Galaxy S4 Active Android 4.3 update yet?
We would like to hear from all that have managed to download this new Android 4.3 update, it is important we know if it went smoothly or with problems, the more you can tell us the better – thanks.