Oppo Neo Android 4.5-inch coming soon apparently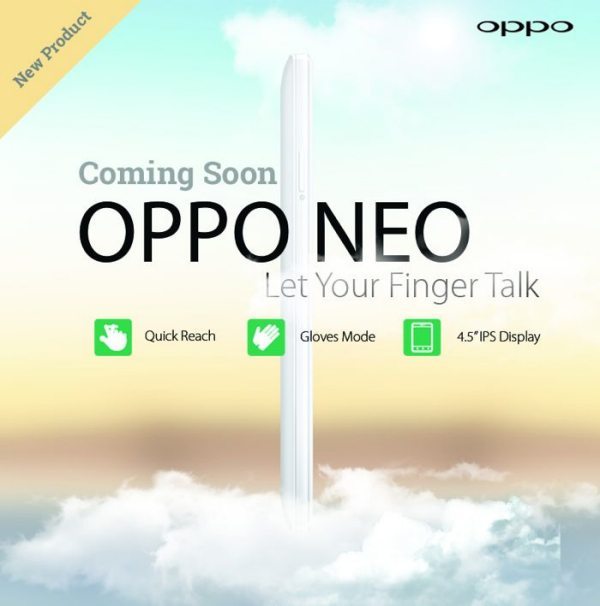 Is Oppo bringing a new smartphone to the market? According to a new photo teaser it looks the new Oppo Neo 4.5-inch Android phone is coming soon.
If you visit ow.ly you will see that OPPOIndonesia has posted a photo showing a few details of the new handset apparently coming soon, it also says in the top left corner 'New Product."
The photo teaser also says 'Cooming Soon Oppo Neo, Let You Finger Talk', it also shows three key features including Quick Reach, Gloves Mode and 4.5-inch IPS display.
Quick Reach is basically gesture-based movements, and the display will likely be HD with a resolution of 1280 x 720 pixels. Gloves Mode is a great idea in the winter and of course those that want to operate the GPS navigation on motorcycle.
There are no details on specs, prices, release dates, as of yet, they are all a mystery for now. For the Oppo Neo to sell well it needs Android 4.4 KitKat, 2GB RAM, 32GB storage with microSD card slot, 2500mAh battery minimum, would be good to have a 13-megapixel camera on the rear.
The Oppo N1 16GB price is €449, 32GB €479, so we are guessing the Oppo Neo to be around this ballpark figure.
How much would you be willing to pay for the upcoming Oppo Neo Android smartphone?