iOS 7.1 beta 3 update, delete OTA installation file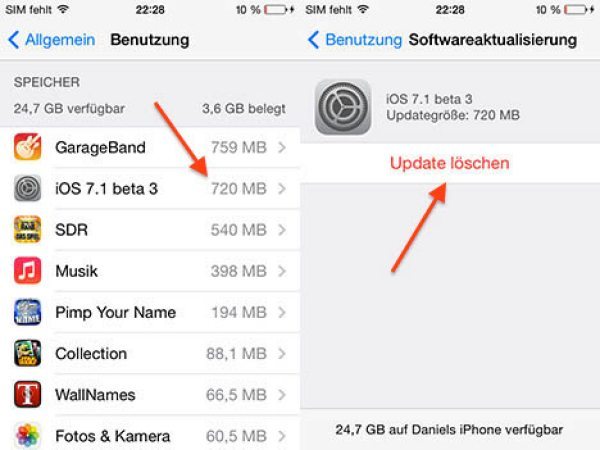 There are lot of people that do not know a great deal about OTA updates within iOS 7.1 beta 3, how many of you have not acted on a new notification pending? Installation files can be deleted from the iOS device, some may say they did not know how to do it!
If you are a developer and downloaded iOS 7.1 Beta 3 OTA you might want to know that the installation file can be deleted without the need of updating, you can see this in the screenshot below courtesy of Macerkopf.de (Translated).
All users need to do is go to General > Usage and once there the new iOS 7 Beta 3 item will be clearly seen in the apps section, as well as all other apps below. Just hot the iOS 7 Beta 3 entry and then simply click on the 'Delete Update button', which shows on the next screen and then this will remove the installer from your iDevice.
iOS 7 will now automatically download OTA app updates when connected to WiFi, so this is actually a really good feature to know. Previously the iOS installer would only deliver OTA, which then saved to the Apple device, it would not get deleted until you applied the update.
These installation files are normally huge and so much so iOS 7.1 Beta 3 there is 1GB space to recover.
What do you think about the new Installation file deletion feature?