Motorola Moto G gets Google Play Edition release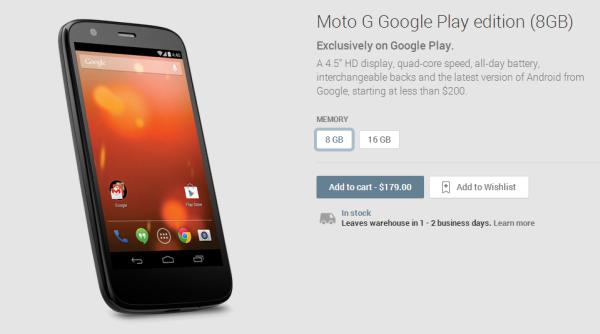 During the last couple of years the appeal of Nexus smartphones has grown with Android fans wanting a vanilla Android experience at reasonable cost, but now this price has got even cheaper as the Motorola Moto G gets a Google Play Edition release.
Last year we saw both the HTC One and Samsung Galaxy S4 getting special Google Play Editions that provided a flagship smartphone with a standard Android operating system without any OEM or carrier bloatware added on top.
Now Google has quietly launched the same experience but this time with the Motorola Moto G, which has suddenly appeared on the Google Play Store in the US. Pricing starts at $179 for the 8GB version going up to $199 for the 16GB model.
Since its initial release last year the Moto G has impressed Android fans and reviewers alike with its worthy specifications for a low off contract price, and the device has recently been receiving the Android 4.4 KitKat update.
To recap the Motorola Moto G features a 4.5-inch 720p HD touchscreen display that is powered by the quad core Qualcomm Snapdragon 400 processor clocked at 1.4GHz, which is coupled with 1GB of RAM.
There is a 5-megapixel rear facing camera with LED flash while around the front is a 1.3-megapixel shooter, which is powered by a 2,070 mAh battery. The only negative that could be aimed at the device is lack of expandable storage but this is the same with the excellent Nexus 5.
Will you be getting the Google Play Edition of the Moto G?