Winter Olympics 2014 app only for Samsung devices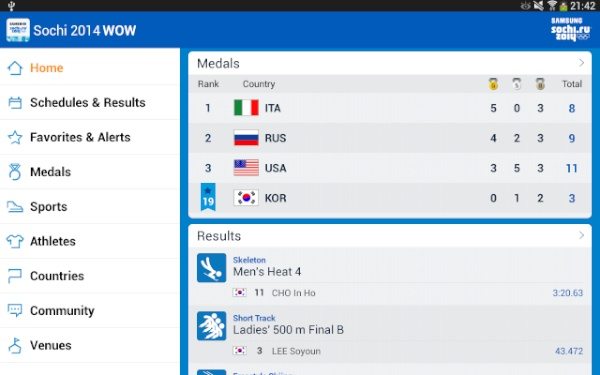 It won't be long now until the 2014 Winter Olympics comes round. This time around the Olympic Winter Games will be held in Sochi, Russia and the event kicks off on February 7 and ends on February 23. News today is that Samsung has released a Winter Olympics 2014 app, although at the moment it's only for Samsung devices.
The name of the app is Sochi 2014 WOW (Wireless Olympic Works) and it has different categories such as sports, countries and medals. Users can track the progress of their favourite athletes and discuss what's going on with the games in a community section with other Winter Olympic enthusiasts. Other sections are schedules and results, venues and more.
Also if you're baffled by some of the sports you're not so familiar with one of the features of the app shows the rules of the game so that you know more about what's going on. Hopefully Samsung might also make the app available soon for other manufacturer's mobile devices.
The Sochi 2014 WOW app is available now at the Google Play Store here and it's free. It only landed yesterday but we've taken a look at user reviews. Those who have managed to download the app have given it excellent ratings.
However, there are some complaints that the app isn't available for non-Samsung devices, at least not yet. One commenter points out that there's nothing in the title of the app or within the description that mentions that presently this can only be used with Samsung devices.
Will you be downloading this Samsung Electronics Sochi 2014 Olympics app from Google Play? Let us know what you think of the app, or if you want Samsung to make it available for non-Samsung devices, by sending us your comments.