New iPad social skills for autism app introduced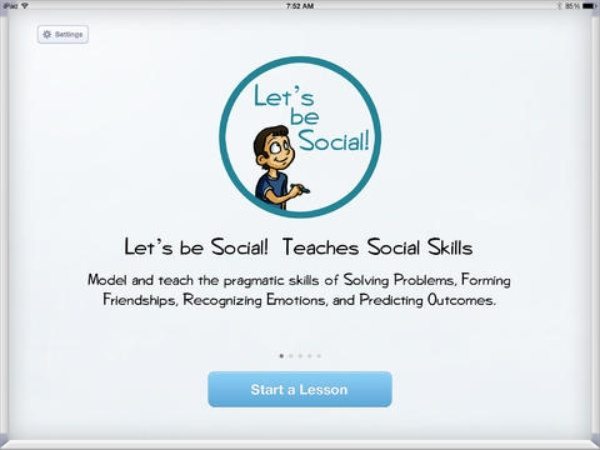 There's an increasing amount of resources for helping children with autism and today we want to tell you about a new iPad social skills for autism app that has just been introduced. Let's Be Social! is focused on helping children with autism spectrum disorders and developmental delays learn social skills.
Let's be Social is by Everyday Speech and this educational app will be useful for parents of autistic children as well as teachers and speech language pathologists. The app contains 25 premium lessons created by ASHA-certified SLPs that are suitable for children with various needs and based on real world experiences.
These lessons cover a range of daily interaction topics such as school behaviour and social relationships and the illustrations used are designed to show the emotions of the interaction and actions taken. The lessons also have a question and answer section to reinforce concepts and gauge retention.
As well as this, app users can create lessons of their own using their own pictures and questions to meet specific learning needs. Pre-launch testing of the app took place where Let's be Social! was found to be a good learning tool for children of all ages from kindergarten through high school.
The Let's Be Social! iOS app is now available for iPad exclusively through the App Store worldwide. It's priced at $14.99/£10.49 or equivalent, and it's compatible with iPads running iOS 6.0 or later. We've embedded a YouTube video below this story that shows more about the Let's Be Social! app that you might want to check out.
If you want to download this new app head to this iTunes page. We'd be really interested to hear your thoughts on this new app aimed at helping children with autism so do send us your comments. Will you be downloading the Let's Be Social app? If so, please tell us what you think about Let's Be Social!