LG G2 set for gold paint job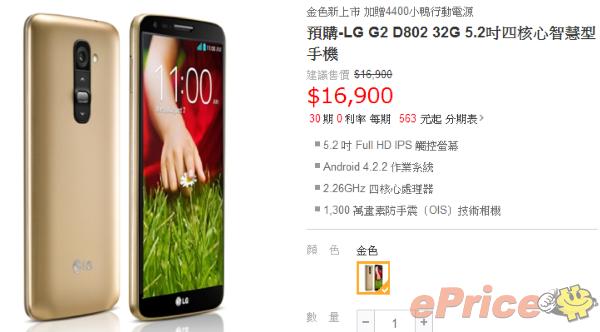 When a new flagship smartphone is first released to the buying public it normally only comes in a couple of different colour choices, but in time many manufacturers will add to this and now the LG G2 looks set for a gold paint job.
In recent months we have seen the likes of the HTC One along with the Samsung Galaxy S4 and even the Galaxy Note 3 all getting treated to a gold paint scheme. Now it seems as if the LG G2 is going to get the same treatment at least in Taiwan where a listing for the device has been seen.
ePrice has seen a gold LG G2 listed and priced around the $496 mark for the 16GB version, going up to $562 for 32GB of storage. It is unclear whether the gold colour option will be made available in other regions as rumours are mounting that the company is getting ready to launch the LG G3.
Other than the new paint job we have a handset that features a 5.2-inch Full HD touchscreen display with 424ppi pixel density, which is powered by the Qualcomm quad core Snapdragon 800 processor clocked at 2.26GHz.
This is paired with 2GB of RAM with either 16GB or 32GB of non-expandable storage with a 13-megapixel rear facing camera on the back, and around the front is a 2.1-megapixel shooter.
Do you like the LG G2 in gold?
Source: Android Beat.