Nokia Lumia 521 price disbelief on MetroPCS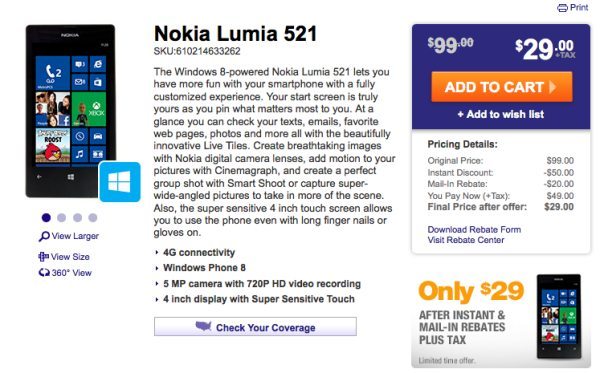 It has always been said that MetroPCS needed a price strategy when they come to sell the Nokia 521, and they must have been listening because they have just added a price that is rather shockingly good.
The Nokia Lumia 521 price disbelief on MetroPCS is very low indeed and cannot see them selling the smartphone any lower than that really, the price is only $29.
You will have to part with $49 at first if you wish to get your hands on the MetroPCS Nokia Lumia 521, but please do not worry because you will get $20 back after the mail-in rebate. The price breakdown goes like this: The original price was $99, but with the -$50.00 it comes to $49.00, which you have to pay, and then the $20 mail-in rebate comes into play leaving you only $29.00 as your final price.
Some may even switch to MetroPCS just for an amazing deal like this, if they are doing this astonishing discount on this smartphone you can just imagine what they will price cut the next time round.
Specs on the Lumia 521 and remember for only $29 includes a 4-inch display, microSD card, 512MB of RAM, 4G, 5MP camera on the rear, 4.7GB of internal memory, Wi-Fi calling, Windows Phone 8 operating system and much more. See the amazing deal over on MetroPCS now.
In America MetroPCS has great coverage, so with that in mind and $29 in your pocket maybe the Nokia Lumia 521 sounds enticing — Will you be buying the Nokia Lumia 521 on MetroPCS?