Oppo Neo price vs Moto G offers no comparison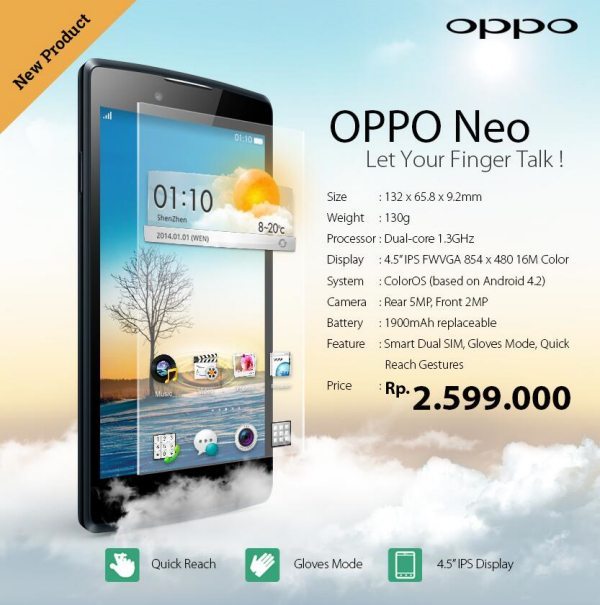 The Oppo Neo was a mystery phone that was unveiled online a couple of days ago, this smartphone was teased in a photo but is no longer going to tease because it is official.
We speculated that the now official Oppo Neo would be priced similar to the Oppo N1 for around €449, but thanks to a new photo on Twitter a new price of IDR-2,599,000 is showing, which is about $215.
There are a few more specs to go on now and the new Oppo Neo will feature a 4.5-inch FWVGA IPS display with a resolution of 854 x 480 pixels, it will come with a 5-megapixel camera on the rear and a 2-megapixel camera for video chats on the front.
The new smartphone for 2014 will also feature Android 4.2 Jelly Bean, dual core 1.3GHz processor and a small 1900 mAh battery, it will be 9.2mm thick and 132mm x 65.8mm in size.
The dual SIM Neo phone also has two new cool features called 'Quick Reach Gestures' and 'Gloves Mode'.
Now looking at the official Oppo Neo price of IDR-2,599,000 ($215) we would rather go for the Moto G, which is only priced at IDR-2,298,800 about $200, the G is nicer to look at and the features are much better.
The Motorola Moto G comes with a 4.5-inch IPS LCD capacitive 720 x 1280 pixels display, 5 MP on the front with a 1.3 camera on the rear, quad-core 1.2 GHz Cortex-A7 Qualcomm Snapdragon 400 processor, Android 4.3 Jelly Bean and much more.
Would you buy the Moto G or the new Oppo Neo?