Airbender iPad Air rugged bluetooth keyboard case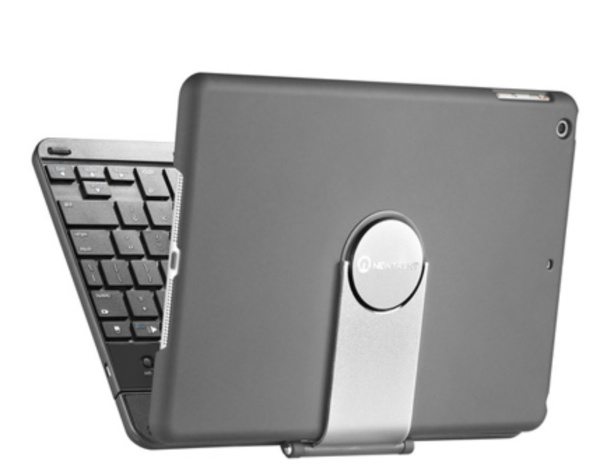 We always try to root out good accessories for hot devices on the market and today we have news of an accessory for the iPad Air. The Airbender for iPad Air is a rugged Bluetooth keyboard case that we think would suit busy professionals on the go.
The Airbender Air NT510K from New Trent offers good protection with a hard thermoplastic shell that wraps around the iPad Air. There's also a keyboard with chiclet keys and Bluetooth connectivity (10 meters/30 feet) to give your tablet more of a laptop experience when required.
This accessory has a unique detachable stand that offers the ability to adjust viewing angles and distances, and can also hold the tablet in either portrait or landscape mode simply by rotating the device. The clamshell case has a rubber silicon bumper wrap that's water, dirt and shock resistant and it also has a built-in battery.
Dimensions of the Airbender Air case are 9.6 x 6.9 x 0.7-inches and it weighs 1lb 1oz. It's available in Matte Black color only. A Micro USB charging cable is also supplied with orders of this iPad Air case.
The price of the Airbender Air case for iPad Air is $64.95 and you can find out more at this New Trent product page. If you decide to purchase this case we'd be very interested to hear what you think of it and whether you'd recommend it to other readers or not? Do send us your comments to let us know.