Starbucks app needs 2014 Android update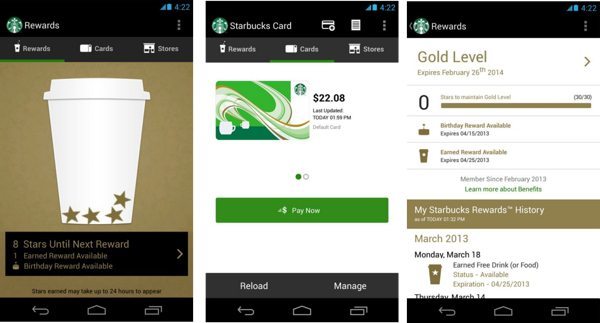 The Starbucks iOS app was last updated on January 17, 2014 bringing 'Version 2.6.2', this brought safeguards and additional performance enhancements. However, the last time the Android app was updated was back on September 18, 2013 v2.4.2, which brought minor bug fixes.
Starbucks app needs 2014 Android update
If you have a Starbucks card you are all well aware that it is great for paying for your goodies, now you can have the Starbucks Android app, which acts as the perfect buddy to your card.
If you own an Android phone and download the Starbucks app, it will provide a barcode on your handset and you will use this in the same manor as you would with your card to make purchases — all sound simple right! Well it is.
The Starbucks app for Android allows you to pay for goodies like a Starbucks caramel flan or a coffee etc, users can check their balance as well as having the ability to reload the card whenever your feel you have to.
Main Features include: Check balance, track your My Starbucks Rewards Stars, use the brilliant widget to pay, transfer balances between cards, view transaction history and much more like locating a Starbucks near you and checking for Starbucks opening hours.
The iOS Starbucks app does appear to have problems, but it seems Android users are having more issues and below you can see some of these problems — Are you having problems with your Starbucks app?
Starbucks Android App Problems
1) Needs work, too many bugs to be reliable App keeps on freezing on me through different menus that I can't use it sometimes. UNRELIABLE.
2) Could use some work Love the fact that I can pay with my phone but this app definitely needs some spit and polish. Could improve if you could swipe between tabs. Also sometimes the stars fall out of my cup. That isn't the message you want to send is it Starbucks? Overall I'm content.
3) Can't read anything When I log in, it all looks good, until I go to my rewards then it looks blurry. If I go back to the main page, all of the stuff that was clear is now blurry like the rewards page. Never had a problem until just recently :0(
4) App needs work, a lot of work. It constantly crashes on my Galaxy S4, its very glitchy. A lot of times when I open the app you cannot read the letters and numbers they are just different sized rectangles. The "stars" cup/rewards page needs the most attention. It always bugs out and freezes in really strange ways. Please fix the app Starbucks!!