New Nexus 5 colour options likely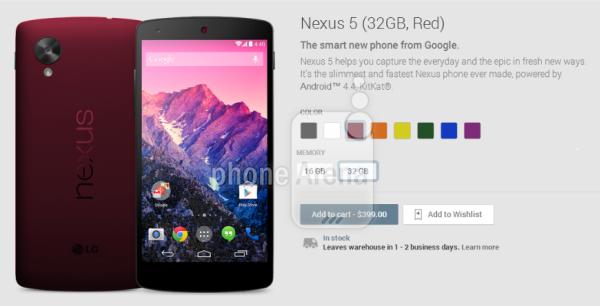 Many smartphone users will personalize their handset by adding some colour to it with a case or bumper, but after a device has been available for a while handset manufacturers may provide more choices to the consumer. Now there could be some likely new Nexus 5 colour options coming soon to the Google Play Store.
Currently the hugely popular Nexus 5 is available to Android fans in either black or white paint jobs, but the image that you can see on this page comes courtesy of the guys over at Phone Arena. They have been sent a video by a reader that is showing the Nexus 5 coming with 8 different colour choices.
Of course this includes the black and white options that are already available, but there are also blue, green, purple, orange red, and yellow. The video that can be seen at the above link seemingly shows someone clicking on all the colour choices with the handset changing as you click on each colour.
There is no information when these colour choices will be made available, and of course until some official news is provided this has still got be taken with a dose of salt, although it does look pretty convincing.
So if you are thinking of picking up the Nexus 5 soon it may be wise to hold fire until we get to know more about these colour options.
Do you think this is the real deal?