Waptrick vs Wapdam for best mobile download content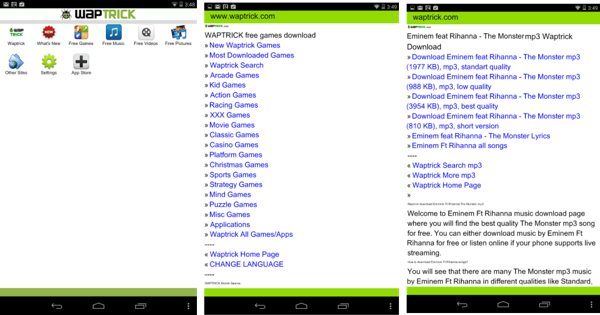 There are many apps in the Google Play Store for free mobile downloads, but choosing the right one can sometimes be a little hard.
The two that stands out in the Google Play Store is 'WAPTRICK' and 'WAPDAM' by the same developer called biNu Inc.
The Waptrick Android app is for those that want super speedy and free mobile downloads, in the description it does say they are one of the most trusted and popular source of free mobile content. This app allows users to get free movie clips, ringtones, themes, games, videos, apps, wallpapers and even lyrics.
One Waptrick user said, "Bliss I cannot fault anything in this app its the best I have had ever. Quick search with a lot of different music pictures and every other thin I have searched for. Its just perfection keep up the standard." — Please do install the Waptrick app via Google Play.
The next Android app is called 'WAPDAM' and basically offers the same thing, not really sure what the difference is between the two seeing as they are by the same developer.
Waptrick has a medium maturity rating and Wapdam has a low rating, both are around the same in file size, all we know is that if you love your music etc you will love both applications. Wapdam also offers free mobile content such as video clips, mp3 songs, celebrity wallpapers, animated screen savers, games, lyrics and much more. Looking at the reviews it seems that there are more positive ones than negative, majority say that the WAPDAM app is excellent. Get now via Google Play.
There are other apps out there for music lovers and one we cam across is called 'mp3 music download' this one offers a fast music search, free mp3 song results, fast mp3 download, music player support, rename mp3 songs, multiple song download and much more — Install here.
Do you prefer Waptrick or Wapdam?