Sony Xperia E1, T2 Ultra release and price news UK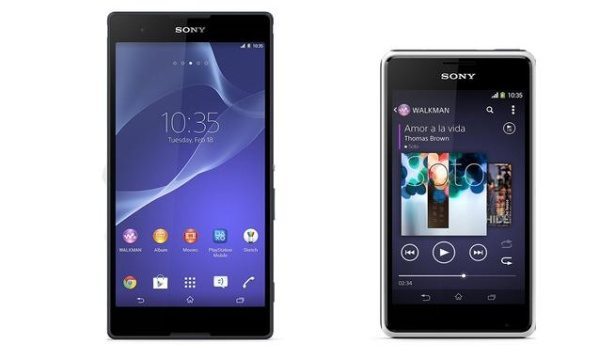 Sony has been announcing some new smartphones lately and two of these are the Xperia E1 and the Sony Xperia T2 Ultra. These are both aimed at being affordable devices and we have Sony Xperia E1, T2 Ultra release and price news for the UK.
The Xperia E1 is a lower cost music-orientated Android handset aimed at the budget end of the market. We've already detailed specs for this phone but the key points are a 1.2GHz Snapdragon 200 dual-core processor, 4-inch display with 800 x 480 resolution, 512MB of RAM and 3-megapixel rear camera.
At its official unveiling Sony didn't give information about a precise release date or the Xperia E1 price. However, a source for 3G.co.uk says that the phone will release in the UK in March.
We'd heard of various price points in Euros for other countries, which seem to point to a price of around £145 for the UK. However, this is yet to be confirmed.
On the other hand the mid-range Xperia T2 Ultra specs include a 1.4GHz Snapdragon 400 quad-core processor, 6-inch display with 1280 x 720 resolution, 1GB of RAM and a 13-megapixel rear camera.
The price of this phablet is said to be 399 Euros pointing to a UK price of around £339. The same source as the release timeframe for the Xperia E1 says that this phone will release in the UK in April.
When we hear more detailed news about specific Xperia T2 Ultra and Xperia E1 release dates and pricing we'll be sure to let you know. While we wait we'd like to know if you are considering buying either of these two new Sony smartphones? Let us know by sending a comment.