Where's My Mickey iOS app currently free but not Android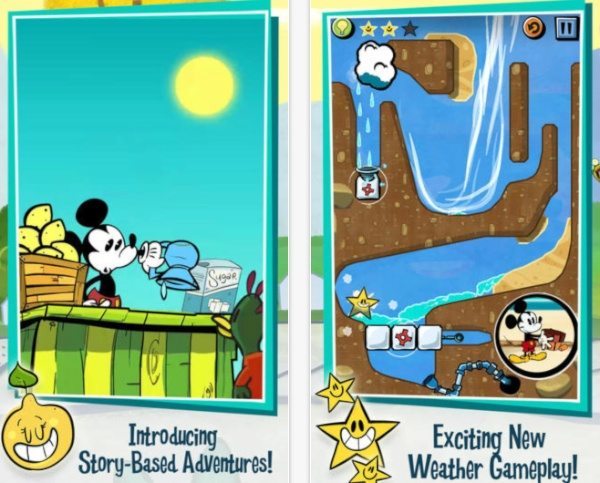 If you're a fan of mobile gaming and also love Disney then we have some good news today for iOS device users. The Disney Where's My Mickey? iOS app is currently free and this also applies to the Windows Phone version. However, this limited time offer does not extend to the Android platform.
Where's My Mickey? is a physics-based games app that is highly rated on the App Store. This offers an immersive gaming experience as the user can view 5 original episodes while enjoying the challenging puzzles.
It involves funny animations and stimulating weather mechanics and the idea is to help Mickey collect water to tackle different tasks across more than 100 levels. You can help Pluto look for collectibles that can then be used to unlock bonus puzzles and also get hints to help you with the more challenging puzzles. Goofy and Minnie Mouse also make appearances.
At the moment iOS device users can get the Where's My Mickey app free from iTunes here (in-app purchases are available). This is a limited time offer and we're not sure how long it will last so you might want to take advantage of it soon. The app is compatible with iPhone, iPod touch and iPad running iOS 5.0 or later.
For the Windows Phone version of Where's My Mickey head to the Windows Phone Store here, where it was previously free and is still currently free to download. This is compatible with Windows Phone 8 devices.
You can also find the Where's My Mickey Android app at Google Play here. However, for some reason this one is not available free and is still priced at $1.99 /£1.25. It's compatible with devices running Android 2.2 or later.
Will you be downloading the Where's My Mickey? App free from the App Store or Windows Phone Store? Maybe you have an Android device and are hoping it will soon be free for you too? Let us have your comments.