Bell TV app problems on Nexus 4, 5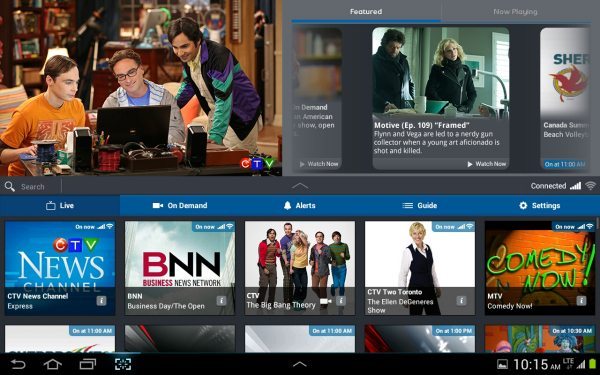 The Bell TV app was last updated on January 20, 2014 that added support on the Nexus 4 and 5 on OS 4.4 and lower. But, since they have added support for these two smartphones a few have had problems.
On Demand TV and Live TV channels can be watched on the Bell TV app being it you are out and about or at home, Bell Mobility customers can get channels included in users Satellite TV or Fibe TV subscription over Wi-Fi for free, which is great.
Al customers can connect to Mobile TV and get 10 hours of viewing live and On Demand TV channels for only $5 a month over the WiFi or cellular network, which does not affect your data plans.
Main features include: Integrated guide, Alert notifications, Easy search, Notifications will be sent when you are near your 10 hours allocation for Bell Mobility customers, you HAVE to be a Bell Mobility or Bell TV customer with a valid plan. For more information about the Bell TV app please download here via the Google Play Store.
Since Bell TV added support for the Nexus 4 and 5 some have complained saying that it does not work for them. One user who downloaded the Bell TV app said, "Doesn't work on Nexus 5, Tech support is useless Beware Nexus 5 owners. Tech support will tell you that it doesn't work if you buy your phone direct from Google or if your phone has android 4.4…. The fact that the app works on both my nexus 4 and nexus 10 (both on 4.4.2 and purchased from Google) determined that this is a lie.
Another user said, "TV to go now running on my Nexus 4 with CM11. But the video pauses occasionally."
We have asked many other users and they have said the app works fine on their devices, it is just a select few having issues. We cannot test this out because we are not Bell customers.
Are you having Bell TV app problems on your Nexus 4 or Nexus 5?