Moto X 4.4.2 for T-Mobile releases, come on Verizon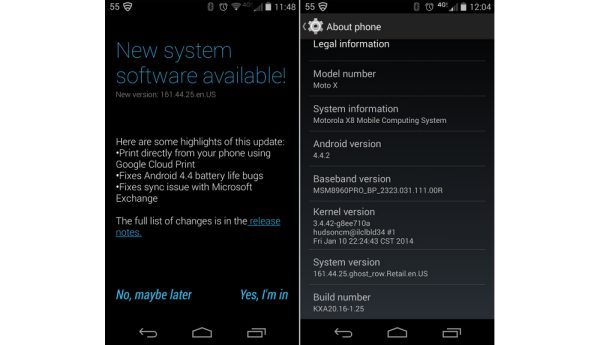 Going to keep this short and sweet, the T-Mobile Motorola Moto X 4.4.2 soak test has recently been released.
The T-Mobile Moto X 4.4.2 soak test has been released as build number 161.44.25, this was first reported by Droid-Life so we thank them for the heads up.
If this soak test goes according to plan with no hiccups then we can see other carriers receiving the same treatment. This is not going to be a major update, it will have a few little enhancements etc.
We would love to hear from all T-Mobile Motorola Mot X owners – Have you received your 4.4.2 soak test with build number 161.44.25?
The next plan of action would be to see Verizon, AT&T and Sprint release the update, but we all know that Verizon takes forever-releasing software updates.
For those that would like to be a part of the soak test find out more here.