Shopping Pro for iPhone, iPad finalist in Best App Ever Awards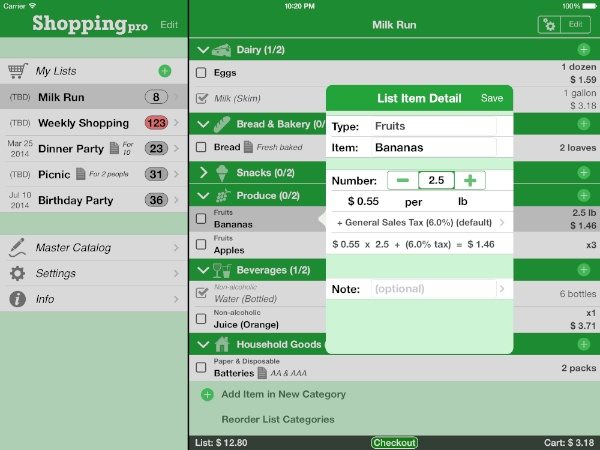 With many of us increasingly using mobile device apps some readers will no doubt have heard of the Best App Ever Awards. The popular Shopping Pro app for iPhone and iPad is now a finalist for a Best Ever App Award so if you haven't yet heard of it we have details ahead. We also have details of how to vote for the awards.
The Shopping Pro (Grocery List) app is a really useful resource for busy people always on the go and it has an exhaustive amount of features. For example it has built-in iCloud auto-sync so members of the family can share, modify and shop with a common list.
A built-in master catalog contains over 1500 shopping items and the app is customizable with different fonts, layouts, colors and more. Users can edit lists, discover new ideas from sample lists, keep a running tally, sort items manually or automatically, tax items, and print lists directly to a printer with options of 1, 2 or 3 columns
You can the Shopping Pro app at iTunes here. It's compatible with iPhone, iPod touch and iPad running iOS 6.0 or later, and it's priced at $2.99.
The app is a finalist for Best Shopping App in the 6th Best App Ever Awards and voting for the 2013 top shopping app and other categories remains open until March 15. If you want to cast a vote for these awards you can do so here.
Are you already a user of the Shopping Pro app for iOS devices, and if so do you think it should win one of the Best App awards? Maybe you haven't used it yet but are about to download it and try it out? Let us know what you think of it by sending your comments.