Official Winter Olympics 2014 apps to enhance the event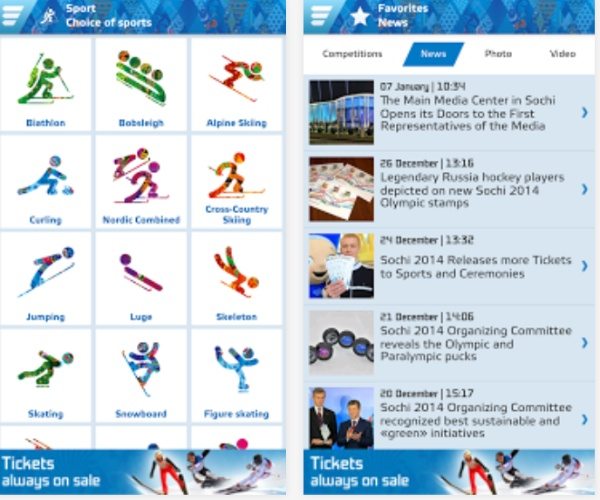 The Sochi Winter Olympics 2014 kicks off in Russia today and millions of people across the world will be enjoying coverage of the opening ceremony in the hours ahead. To get the very most out of this Olympic Games it's worth considering downloading an app or two. We have details of the Official Winter Olympic apps ahead for Android, iOS, Windows Phone and BlackBerry devices.
The Sochi 2014 Olympics site details two different apps for winter sports enthusiasts to make use of. The first is called Sochi 2014 Results and has just about everything you need to enhance your experience of this great sporting event.
It includes the competition schedule and live results for the Sochi 2014 Olympic and Paralympic Games and much more. Users can choose feeds for their favourite topics and receive alerts, and access relevant news about particular countries and athletes. This is a free app and you can download it for Android, iOS, or Windows Phone by hitting the relevant links we've provided.
An alternative app is titled Sochi 2014 Guide. This one is aimed purely at spectators who are actually attending the event so if you're fortunate enough to be going, this is the app for you. It will help users to find their way around Sochi and the various venues and also gives information about Olympic transportation.
This app also enables users to access real time Games news, receive Push notifications, and access photographs and it will be a great benefit to those attending. Hit these download links for the Android, iOS, or Windows Phone versions of the app.
For BlackBerry users, although the official Winter Olympic website lists both apps for BlackBerry, the download links are actually for the same app. You can find the BlackBerry Sochi 2014 app at this BlackBerry World page. Some readers may also be interested in an Android Sochi 2014 WOW app that has been optimised for Samsung devices.
These apps should enhance your enjoyment of the 2014 Winter Olympics and we'd like to know what you think of them. Are you intending to follow the Olympics as it unfolds? Will you be using either of these official Olympic apps? Drop us a comment using the box below.