ARM Cortex-A17 CPU new architecture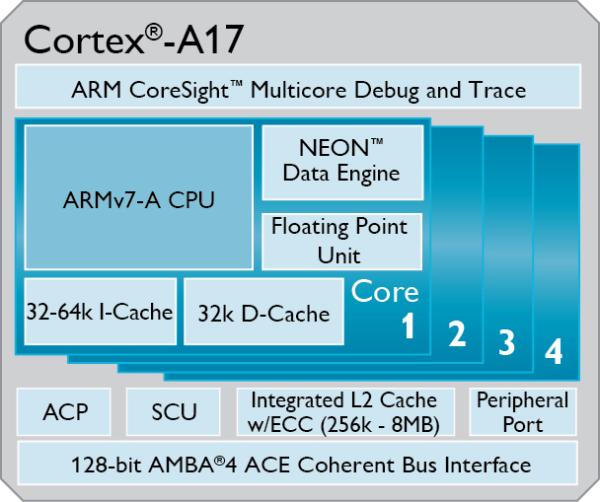 While we have seen more smartphones provided with higher resolution displays in recent times we have also seen the processors powering them getting more advanced, and today we have news of the ARM Cortex-A17 CPU with new architecture which will be good news for mid range smartphones.
ARM has announced a new chip that is promised to offer 60% better performance and looks set to be used in handsets at the mid-range part of the market from the second half of 2015. The new processor will replace the aging Cortex-A9 processor that has been with us for the best part of six years now.
The new design can support up to four cores each running at speeds of 2GHz or higher, and can also be paired with other low power ARM cores using the big. LITTLE configuration, which is in a similar way to the US version of the Samsung Galaxy Note 3.
While providing up to 60% better performance the new Cortex-A9 processor will do this while using 20% less power. Also the Cortex-A17 processor will be manufactured using the 28nm process to begin with, but by the time we reach 2016 this could be reduced to 20nm by 2016.
Source: ARM.