Bumprz eliminates and mocks iPhone cases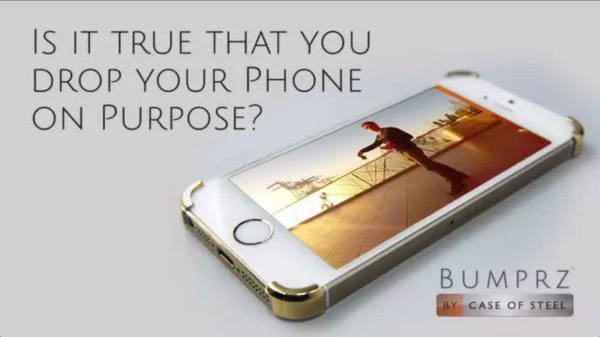 There are so many iPhone cases on the market but all they do is cover up the whole design and look of the handset itself, the iPhone 5S for example is an expensive product so why would you want to hide it just to protect it — Say hello to the new Bumprz, which eliminates and mocks all other iPhone cases.
So many iPhones have broken when dropped and it does make sense to buy a case, if you want a stylish iPhone case made of metal you will probably pay a lot of money for it and this is where Bumprz comes into play.
Bumprz is the world's most minimal iPhone case – this is really the anti-case. Most cases can be felt in your pocket, but with the innovative design no bulkiness will be felt or seen.

If you want functional, minimalistic and beautiful looks then Bumprz are the way to go and you should really back the Kickstarter project. These are four little but yet very strong metal corners that adhere to your iPhone, they come in either stainless steel or brass, which are attached to the phone with 3M adhesives that also absorbs the impact when dropped.
Watch the videos below to see what you think, if you like head on over to Kickstarter and back these little beauties — so far there are 305 backers and $8,142 has been pledged of a $25,000 goal with 21 days to go.
If you pledge $15 or more you will get the 'Early Bird pledge', which includes set of original Bumprz for the iPhone 5/5s — these come in either matte, silver or gold, normal price is $30. If you pledge $50 or more you get the 'Friends and Family, Mix and Match Package' this is the full set in Matte Steel, Polished Steel, Matte Gold and Polished Gold.
Estimated delivery for Bumprz is April 2014 — What do you think of the new Bumprz?